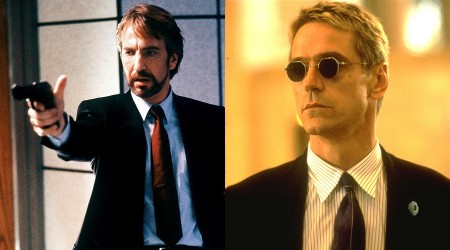 [face of a franchise presents two individuals that've fulfilled the same role. your task — choose the better of the two and defend your choice in the rancor pit that is the comments section]
John McClane is a goddamn bad-ass. From the late 1980s to the mid-1990s, McClane made a point to periodically run through a Die Hard flick in the hopes of averting disaster and making clever quips. Towers? Airports? An entire city? No matter the intended terror-target, McClane never shirked from responsibility, even if it meant working through a bombastic hangover.
However, part of what makes the Die Hard trilogy so fun is the fact that John McClane never has an easy go of his adventures. By the end of each movie, Bruce Willis looks more like a broken-spirited vagrant than any sort of wealthy restauranteur. The truth of the matter is that McClane is always outmatched by his enemies, and as such he has to get the piss beaten out of him before he can save the day.
So who of McClane's foes are the most formidable? Which motherfuckers stick in the craw most? Well, the honor has to go to the Gruber Brothers.