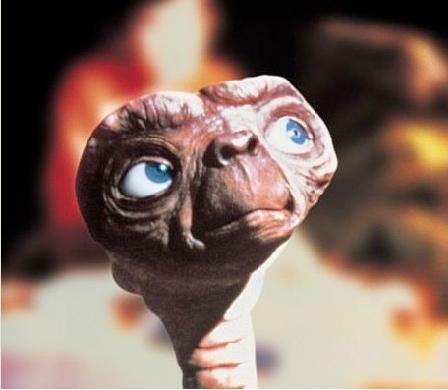 Although I've been saying this a lot lately, I must now formally announce that we are in the final lap of OCTOBERFEAST. In one week's time, the demons and ghouls who spend most of the year pretending to be children will be running on the streets and holding us up for candy. It's going to be great.
I really believe that trick-or-treating is one of the most surreal, almost magical parts of childhood. For one evening, adults step back and allow the inmates to run the asylum. Children shed their skin and assume the roles of beings that are to be not only considered, but actually feared and revered. I will never forget the feeling of importance when some fat-assed housewife would open her front door, fork over a goodie, and ask "Oh my! And what are you dressed as?"
It is with this awe of and respect for Halloween's most celebrated  activity that OCTOBERFEAST inducts its newest member — E.T. the Extra-Terrestrial.
But first, let's step back for a moment. Completely independent of its connections to the American Harvest Festival, E.T. the Extra-Terrestrial is a fantastic film.  The 1982 Spielberg-concoction  is about a cute little alien with a pot-belly who gets stuck on Earth. Shortly thereafter, he is discovered and protected by three children and their single mom. Elliot, the middle of the three children, becomes best friends with the alien and they share a mind-link. In the process, Elliot helps the otherworldly visitor make an interstellar phone with which he can call home for a ride. By the end of the movie everyone learns the true meaning of love, friendship, and just how funny it is to call someone "Penis-breath."
Really though, the only way you can not enjoy E.T. is if you don't have a heart. Between Drew Barrymore's debut (as Gertie), a John Williams score, the hilarious scene in which E.T. drinks beers, and flying bicycles there is something for everyone. So even on its own, E.T. the Extra-Terrestrial is an amazing slice of cinema.
Now, you may  find yourself asking why this movie is part of the OCTOBERFEAST. Well, first of all, the titular character is an alien. While certainly different than Earth-based monsters, I think it'd be foolish to argue that aliens don't deserve a spot in the category of horrifying. While E.T. turns out to be a good guy, there is still an element of fear and uneasiness about the concept of outer-space men. So at the very least, just remember that E.T. is about an alien and that is enough of a qualifier in and of itself.
But more poignantly, E.T. the Extra-Terrestrial takes place in a suburb preparing for Halloween festivities. With Spielberg at the helm, the viewer is treated to scenes that perfectly embody the spirit of the holiday, featuring kids getting amped to hit the streets and the costumes of which they are so proud. While one may want to write off the inclusion of Halloween in E.T. as incidental setting, I believe that Spielberg wanted to capture a season that contained a magic such as that found in the relationships of the movie's characters.
Halloween may be a backdrop for the movie, but it is a significant and memorable backdrop.
For your consideration — E.T. the Extra-Terrestrial's (sometimes first-person) perspective on trick or treating: