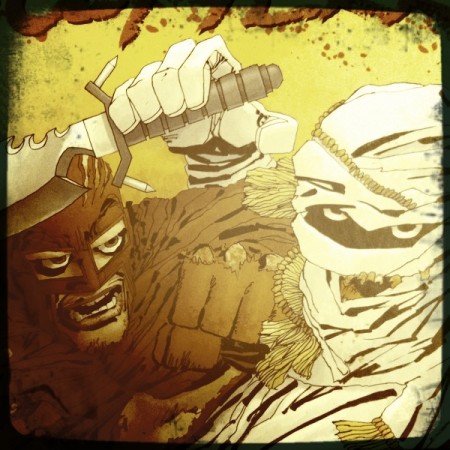 For the better part of a decade, the comics world has been keeping its eyes on Frank Miller's Holy Terror.   Fans and pundits alike have relentlessly debated the project, needing not even a full page's glimpse to form an opinion. Which, I suppose, was necessary, seeing as Miller played the hand so close to his chest that news was released only in infrequent snippets.
Occasional whispers of plot. Breathy sighs of editorial tumult. Stifled chuckles of creative insanity.
Lest we not forget that at one time Holy Terror was titled Holy Terror, Batman! The premise was simple: Batman and Catwoman are caught in the midst of a terrorist attack (ala 9/11) and then take it upon themselves to strike back against Al Qaeda. Depending on whose doing the `splaining, Miller's intention was either to pay homage to classic WWII propaganda comics or simply to vent his anti-Muslim vitriol via the medium he's helped redefine on multiple occasions.
Of course, DC Comics ain't in the business of losing business, so Bruce Wayne and Selina Kyle were never given the green light to hunt terrorists. Instead, Miller tells his story by employing The Fixer and the Cat Burglar, analogs probably just different enough to give some peace of mind to the legal department at Legendary Comics (publisher of Holy Terror). So again, it's The Fixer and Cat Burglar that seek assistance of Dan Donegal (who's totally  not Jim Gordon) to seek revenge.
You might think that Frank Miller prefers using The Fixer so that the Batman purists aren't offended. But you'd be wrong – dead wrong. In fact, the man's even said that he hopes this book pisses people off.
Well, yesterday finally saw the release of Holy Terror and I've had given it a couple of read-throughs. Now, it's time to sift through ten years worth of questions posed by both advocates and detractors, to figure out how the story stacks up. Does it trivialize world-issues by painting them in black-and-white terms and solving them with superheroics? Is it artful? Has Frank Miller gone off the deep end? Is it entertaining? Does it fall short of the expectations? Is it worth purchasing?
The answer, to all of the above, is a resounding yes.