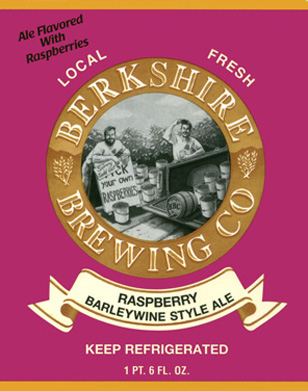 Friday again — another week of possibility subtracted from my life, and thus another excuse to drink! Oh, how I love doing these Friday Brew Reviews.
Coming home from a high school football game, Mrs. Krueger and I took a detour at the liquor store. Trying my best to be a gentleman, I offered  that she  "pick out something to get yourself drunk off of." Always one to party, she found a "raspberry beer — that sounds fun" and we were on our way.
I was halfway through the original brew I planned to feature when Mrs. Krueger finally opened up her choice for the evening. The fair lady took one sip, grimaced while choking it down, and asked to switch. Initially I laughed, but then remembered the promise I made to myself to be more chivalrous — you know, some straight-up King Arthur shit.
Taking the fatboy-sized bottle, I began to pound the Berkshire Brewing Company's Raspberry Barleywine Ale. Big mistake. I had (for one reason or another) anticipated being treated to a fun beer with a light aftertaste of fruit — wrong on all accounts.
First and foremost, Raspberry Barleywine Ale should advertise its alcohol content somewhere on the bottle itself. The first sip, heedlessly poured into my gullet, saw me almost gag on the unexpected flavor of alcohol. While the company's website told me of the product's 9% alcohol content, this information would have been much more useful beforehand.
Secondly, these folks need to downplay the "ale" aspect and highlight the Barleywine component. This stuff tastes much more like wine than any worthwhile beer, ale, or lager I've ever consumed. Also, with an oversized bottle, doling this shit out like wine just seems like it would make more sense.
Lastly, I suppose the Berkshire Brewing Company might want to consider working on the actual flavor. Maybe I'm being harsh, but this just doesn't taste that great. It's decent and was put out at a fair price, but it certainly isn't a beverage I can recommend as being worthy of spending time or energy hunting down.
Maybe the fact that the brewery's website lists the drink as being a FEBRUARY (not Autumn or October) seasonal condemns it to suckiness. Or maybe I should have found a store that rotates its inventory more frequently.
Oh well. I'm started to get lifted and am done complaining. Perhaps I'll fare better next week.
For its alcohol content and relatively low price, Berkshire Brewing Company's Raspberry Barleywine Ale squeaks out with a C.