Variant Covers: Thor and Odin Fight For The Hammer-Penis. The Conclusion!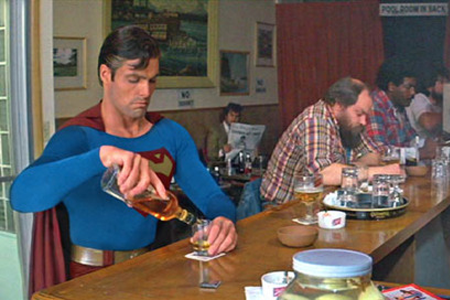 While I'm writing this — assuredly not while you're reading this — I'm sitting in a desolate café room on campus cranking out this column. Thinking of tomorrow, of comic books, of narrative-image fusion. Momentary escape. Fuck I love the funny books. I love sitting here, a momentary reprieve in a ten-hour day writing about them.
This is Variant Covers.
I'm Caffeine Powered.
These are the books I'm interested in this week.
—-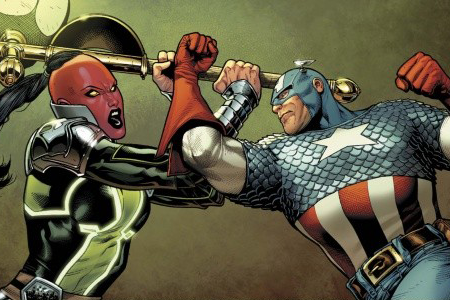 Fear Itself #7.
Fear Itself concludes this week. The Fraction/Immonen editorial nightmare is going to climax all over the pages with the death of the Odinson. I don't know anything in particular, just calling the ball. There will be a rally. People will make speeches. Captain America will fire some bullets. Then all will end. There will be resolution.
Then there will be tie-ins. Like this week's Fear Itself: Fearless. Another cleverly named comic series from the house that has brought us Ultimate Comics: Ultimates and X-Men: Super Sega Regenesis.
Also dropping in the House of Fear Itself Isn't An Awkward  Movie Marketing Blitz is Avengers #18. Normally I wouldn't' give two tugs of my he-clit, but it features artwork by Daniel Acuna. He spits fire through fingers onto pages of glory. Jason Aaron and Ron Garney are rocking out to Wolverine #17. Seeing as how Jason Aaron and his ultimate man beard are taking over Wolverine & the Zany X-Kids this title should draw some interest. Me? I read it because he has Logan killing three to four thousand fucking proles every episode.
Perhaps more filling for my Fraction fanboy extravaganza is Invincible Iron Man # 509. Joe Casey is also descending into mainstream mayhem with Vengeance #4. Buy it, but more fucking importantly: buy Butcher Baker. You owe it to yourself for some ultra-violent convention-fucking deconstruction.
Oh my god that's a lot of Marvel comic books. Slap my ass and call me Joe Quesada's squeeze doll. My bad! I'm sure there's tons of awesome stuff coming out over in the Irrelevant 52. We'll get there. Patience, my friends. Don your cloak, prepare the victuals. I hunger.
—-
Neonomicon TPB.
Did you miss out on the Cthulhu rape party last year? Did you abscond from seeing Alan Moore dream up drizzly jizzy reptile Demigod cocks? Fuck is wrong with you. Don't let the utter perversion rampant in Moore's comic book scare you off. Well, from the utter frightening nature of the title. It's an eerie HP Lovecraft handjob that manages to spend a decent amount of time examination the reality of texts and how we read reality as a text. Buckle up, prepare to be unnerved. Alan Moore still throbs for you.
—-
Batman #2.
Bruce Wayne may be a corporate-pig-fascist, but his debut issue in the Money Over Content 52 was one of my favorite debuts. Scott Snyder brings a refreshing hue to the title that has been slick with Grant Morrison's madness for years. Now understand. Understand, you hear! I love Morrison, but Scott is striping the mythos down a bit. It makes my brain-balls happy after a long day to be able to read Batman and not need a scroll, a protractor, and the internet to figure out what the fuck is going on.
(I really love you, Sir Grant. Forgive me.)
If you want to watch Judd Winick fail Feminism 101 with his portrayal of Selina Kyle, pick up yourself   a copy of Catwoman #2. It's great for the following: feminist women who believe in sequential art and are looking for a topic for doctorial work, horndog douchebag pigs, and people who need to own every title in the Batman Universe. For the rest of, steer wide. Way wide.
Not to be outdone!:  JLA #2 is dropping this week. Geoff Johns' tired scripting meets Jim Lee's Action Figure Stiff pencils for a comic that can best be described by a comfortable but slightly fatigued yawn. Oh an origin story. Yawn. Oh Johns jerking off over the Green Lantern again. Yawn. Oh Jim Lee, whose pencils have evolved in twenty years. Yawn.
Possibly worth checking out: Wonder Woman #2. Brian Azzarello is handling the title, and while I'm not as amped about this title of his as I am his futuristic riffage Spaceman dropping later this month, his presence along gets my antennae twitching. Am I going to buy it? Maybe. Maybe if the feeling strikes me. If I don't buy it? I'm cert
—-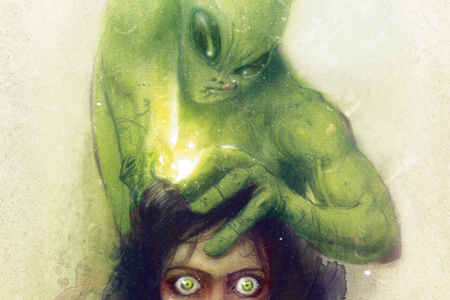 Xenoholics #1.
This title caught my eye whilst I was wearing my tin foil cap and doffing my SETI sweatshirt. Just kidding! Lazy writing! Your mouth. It does seem interesting. Written by Joshua Williamson and artwork by Seth Damoose, the title is centered around a people obsessed with the Grey Men, Omaha late night cattle prodding, and government conspiracies. I hadn't heard of this title until this morning, which is an even better reason to check it out.
Give people a shot.
—-
Pretty uninspiring week filled with mainstream bloat that I cling onto like a demented diseased carrion pigeon. I apologize for that! I hope you can forgive me, I will self-flagellate and scream your name in hoarse, hushed, but still reverent whispers for the next six days.
In the mean time, what are you buying this week?