'GRAND THEFT AUTO V' promotional swag leaks. Plus! Posters.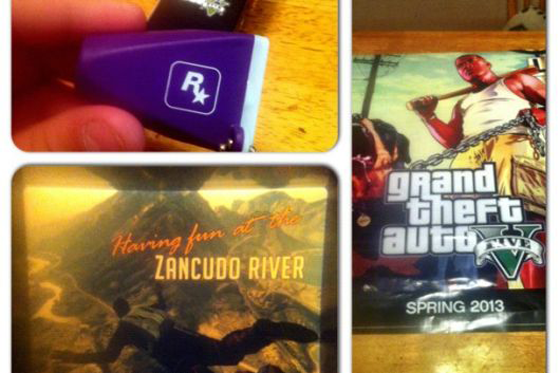 The drums of war go boom-boom or something, heralding the approach of the next GTA. These drums bring with them promotional leaks and posters for those who are interested. I assume you are interested.
Retailers running preorders for Grand Theft Auto 5 (which is coming out in spring 2013) were supposed to wait until November 5 to give away any promotional items. Pictures of what appears to be a little keychain image viewer have leaked, both revealing that as a pre-order bonus for the game and showing off some locations to be included in Rockstar's latest paean to the West Coast.

Looking through the viewfinder on the tiny accessory shows off not only the Zancudo River, but also the Vinewood Hills (a play on Hollywood), the Del Perro Pier (likely Santa Monica's landmark playground), the Vespucci Canals (with a view of downtown), and Grapeseed (a winery area that's likely a tip to California's Napa Valley).

Fans have also spotted a poster promoting the game (which you can see after the break below) featuring a woman wearing a Love Fist t-shirt, and a few of the keychain viewers reference an air travel company called "FlyUS", so it appears that GTA's usual parodic shenanigans are in order. We'll likely hear even more about this one in the next month or so, as Rockstar's promotional machine for the game finally starts kicking into gear.