'EPISODE VII' NEWS: 'GIRLS' actor ADAM DRIVER is all THE VADER-LIKE VILLAIN and such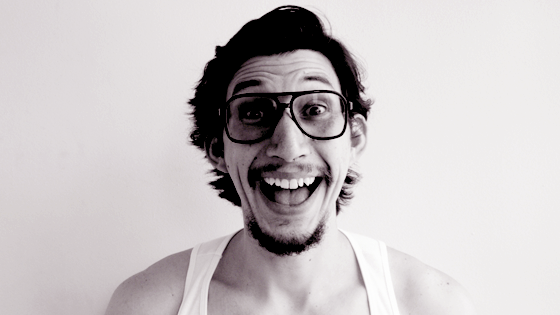 Fucking stupid Star Wars. I'm all walking out of fucking work, dong thickened with glee because the day is over, when I read this news on my iPhone. So here I am — sitting in a shitty cafe table on campus — sharing this news. But I can't help it! It's The Force, man.
Star Wars: Episode VII looks to be nearing its first casting announcement: As first reported byVariety, Girls actor Adam Driver is said in talks to sign on as "the" villain in the upcoming J.J. Abrams-directed film, and though the deal isn't done, it's said to be close. No firm details of the role are publicly known, but the character is reportedly "in the vein of" the most famous Star Wars villain of all, Darth Vader.

Driver previously had been rumored for a role in the film, and The Hollywood Reporter states his part may be the same one that Michael Fassbender and Joel Kinnaman were considered for.

Driver, 30, has played Adam Sackler on all three seasons of HBO's Girls, and has appeared on film in both J. Edgar and Inside Llewyn Davis. Last fall, he was rumored to be in contention for the role of Nightwing in the Man of Steel sequel, which he soon denied.

Star Wars: Episode VII opens Dec. 15, 2015.

[Spin Off]
I don't know the dude. Don't watch Girls, would rather gouge said thickened dong with shards of a plastic lightsaber than do so. So friends, can Mr. Driver act? Let me know.