BEN AFFLECK to play BATMAN in 'MAN OF STEEL' SEQUEL, 'BATMAN VS. SUPERMAN.'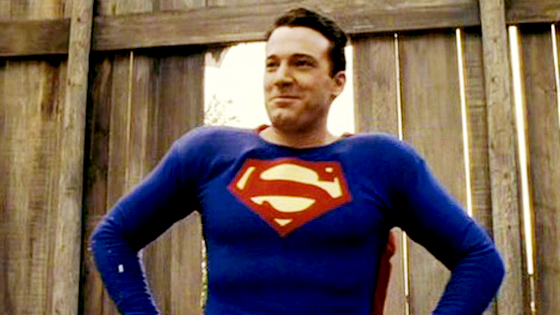 I love Ben Affleck. I hate this casting. You?
Ben Affleck will play Batman opposite Henry Cavill in the "Man of Steel" sequel, "Superman/Batman," Warner Bros. announced today.

"Man of Steel's" Zack Snyder is set to return as the director of the sequel, in addition to co-writing the story with David S. Goyer, who will pen the screenplay.

Production is expected to begin next year, with a July 17, 2015, release date.

Word of the union of two of DC Comics' most iconic heroes first surfaced in July at Comic-Con International in San Diego, with Warner Bros. announcing the project during its panel presentation.

During that session, Snyder said that the film will not be adapted from "Batman: The Dark Knight Returns."

"Zack Snyder is an incredibly talented filmmaker, but beyond that, he's a fan first, and he utterly gets this genre," Greg Silverman, president of Warner Bros. creative development, said in a news release about the "Superman/Batman" project. "We could not think of anyone better suited to the task of bringing these iconic superheroes to the screen in his own way."

"Man of Steel" producers Charles Roven and Deborah Snyder are returning as producers, and Christopher Nolan and Emma Thomas are serving as executive producers on the upcoming film, along with Benjamin Melniker and Michael E. Uslan.

Returning "Man of Steel" cast members include Amy Adams as Lois Lane and Laurence Fishburne as Perry White.

Diane Lane also will reprise her role as Martha Kent.