Cosplay: JASMINE from 'ALLADIN' is the SEXIEST THIEF OF AGRABAH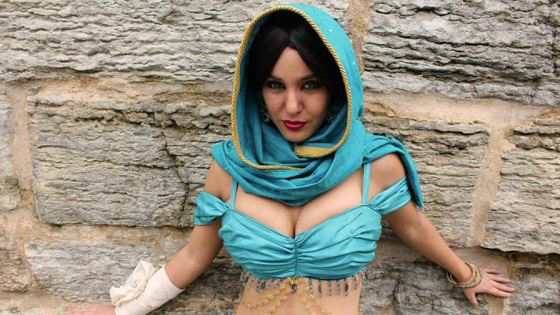 Oh lord. Just ridiculously sexy Disney princess cosplay. Fuck Spring Breakers, here be a Disney princess all grown up. Yeah. I don't know man. Keep the loaves of bread away from me, 'cause the heat from my loins is about to toast them.
When Jasmine finally got out to the streets of Agrabah to explore life as someone else who is not a princess, she liked it. Getting out of her sheltered existence was just what she needed. Cosplayer Lisa Lou Who enjoyed that part of Aladdin so much that she designed a new look for Jasmine. She pictured her as a thief of Agrabah instead of a princess in a palace. She's added a hood and pouches to the standard outfit and actually achieved a sexy Aladdin-Jasmine mash-up. I'd love to see a movie about this version of Jasmine.