Funny Books We're Snagging This Week: Einstein Isn't Just Gentle, He'll Kiss You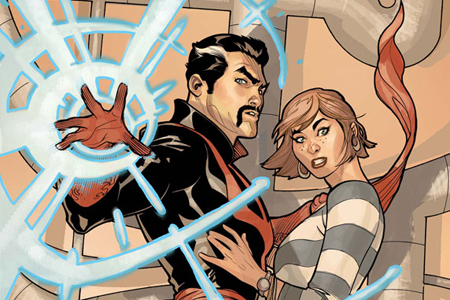 Hello friends. Gals. Guys. Transpecimens from an alternate dimension reading this in the future as some ethnographic study on our primitive simian brain-stems. This is Funny Books We're Snagging This Week, the comic book column where we spaz and spout and maybe even rub it a little over the week's funny book releases.  Everyone's invited! Especially if you find something not covered. Not certain what's coming out? Hit up ComicList.
—-
Defenders #4
So far the corporate destructoids over at Marvel have allowed Matt Fraction free rein with Defenders  and I can only pray a solemn prayer that they continue to do so. Tagging in for this fourth issue is Michael Lark. You may recognize him as an artist capable of inducing ocular orgasms through his penciling wizardry. Such a team is destined to blow out sphincters everywhere, and as such I'm duct taping the bunghole closed before reading it.
I'm also sure this issue is going to be fantastic.
—-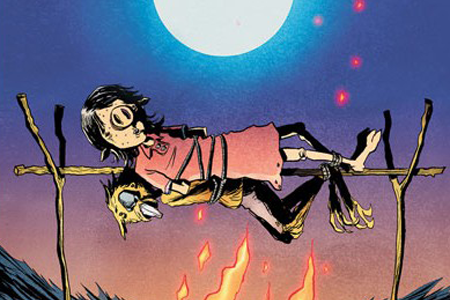 [Confession Time] Sweet Tooth #31
For a solid stretch of time, the Lemire-powered Sweet Tooth was one of my favorite comics dropping. In the middle of the last story arc however, I tapped out. It all got a bit to mystical for me, and it was continually slipping in my reading rotation. I started missing issues. Everything became fragmented. Missing. Disjointed. I can't tell if I'm done with the title or if I'm going to snag a TP of the latest story and catch up, but I do feel a bit grimy in the groin for ditching it. I mean, Jesus Christ, considering what I am  reading.
Don't be mistaken, I'm not doubting Lemire's awesomeness. In fact, I'm sweating Animal Man #7  this week. Also by the man. The myth. The legend. The Canadian.
—-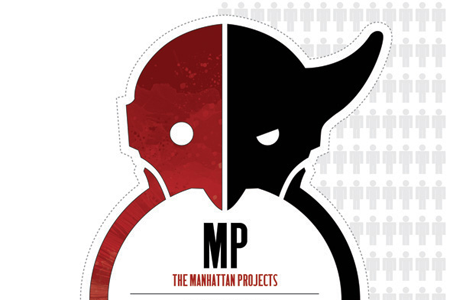 Manhattan Projects #1
Oh shit, rub my tits raw with atom-splitting glee. Jonathan Hickman and Nick Pitarra are teaming up after their space-time-continuum-destroying madness in The Red Wing. This time the dynamite duo (not to be confused with the dynamic duo, even if the two of them certainly possess a level of dynamism) are getting a bit alternate history on our asses. What if the Manhattan Project we knew about was one of many secreted projects carried out by those sons-a-bitches who were hellbent on winning the Second Grand War? Simple enough premise, and I would be lying if I said I wasn't hyping for some of the typical Hickman reimagining of historical figures swagger.
Guilty! Guilty as charged.
—-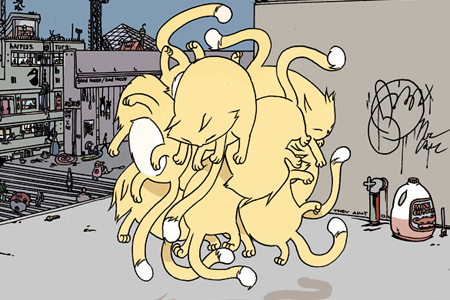 [Caff Pick Of The Week] King City TP
I first read about Brandon Graham's  King City  many moons ago on Warren Ellis' website. This was back in the day when Warren Ellis actually updated his blog and actively wrote comics. Not like these days. The dark days. While the winds whistle through my Planetary  shrine, as it empties out with such little a shrine to my Lord and Master.
—Despite being pretty excited by King City, the pig couldn't be purchased anywhere. Out of print. Back-issues overpriced to the Heavens and back. I was left to paw at my computer screen, mesmerized by Graham's unhinged artwork and rampant imagination. His work on the quasi-relaunched Prophet  (fucking stellar) only served to stoke my loins' yearning. Thankfully, Image has come to the rescue. They're issuing this collection courtesy of the viable TP medium. A true somber victory for all of us. You know, those of us who have a love for a medium where occasionally it becomes fucking *impossible* to purchase a copy of a story. Ridiculous. Whatever, another rant another day.
—-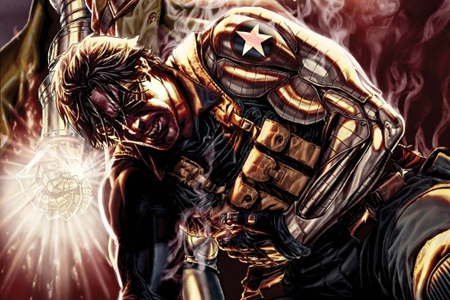 Miscellaneous  Debris
Glancing over this week's releases, I saw that the third issue of Winter Soldier  is dropping. My immediate reaction was "God fucking dammit, I missed the second issue", so there's that. If you're still galloping along the misery that is Grant Morrison's relaunched Action Comics, there's a new installment for you this week. Not to be forgotten there's True Blood: The French Quarter #6  (think of your favorite comic that was canceled and then contrast it with the fact that this exists), as well as new issues of Spider-Man: Something Such  and Dicks  by Garth Ennis. Who clearly isn't trying anymore.
—-
That does it for me. What are you procuring this week?