DC Reveals Designs for Batman and Robin of 'Earth Two', They Ain't Ass.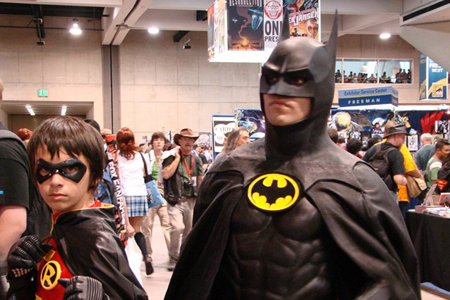 I haven't dedicated much brain power to thinking about DC's upcoming Earth Two. The seeming flagship title of the company's "second wave" of New 52 titles. Just hasn't really interested me. That is, until I caught this info and peeped the designs. Not IMAGE EXPO level of the excite!, but it could be pretty jazzy.
Hit the jump for details and images.
If not the most eagerly anticipated of  DC Comics'  "New 52" second wave titles launching in May,  Earth 2  is definitely the most mysterious. It bears the name of DC's popular Silver Age alternate earth, where the heroes of The Golden Age grew old in real time after DC stopped publishing their original adventures, a world that was off-limits for about 20 years after 1986's  Crisis On Infinite Earths  before reappearing in various forms in recent years. After the New 52boot, in which DC once again reset their continuity and rejiggered their cosmology, fans have little idea what to expect from New 52 Earth 2, although DC started giving more clues this week in the form of  Jim Lee's costume design for Batman and Kevin Maguire's design for Robin.
[cont]
In  the newly released design sketch by Jim Lee, we see Batman again bearing a stick-and wearing little holster's for them on his thighs, but the upcoming book's editor Pat McCallum teased the indentity of the character thusly, "Yeah, there is a Wayne under the mask."
[cont]
The best guess for Earth Two Batman's identity is now probably the current "Earth One" Robin Damian Wayne, all grown up, as Bruce Wayne would be a senior citizen on Earth Two (he has a grown daughter in The Huntress, after all). McCallum also mentions that this Batman will kill his enemies and that "EARTH 2 is about to become a very bad place to be a bad guy." Ruthless crime-fighting and lethal force is something Damian Wayne has resorted to in the past… and in a past alternate future (Comics!).

Today's tease was accompanied by a few quotes from Earth Two writer James Robinson, confirming that it is indeed The Huntress Helena Wayne in the image, if the fact that her costume blends the current Huntress costume with Tim Drake's Robin costume wasn't enough of a clue (or the fact that we got a glimpse of Helena as Robin on a previously released cover for Worlds' Finest #1)

What else to we know about Earth Two, at this point? Only that Powergirl and The Huntress have come to the New 52iverse from there, PG was apparently Supergirl just as Huntress used to be Robin and what DC's original announcement said about the upcoming book:
Earth 2 – Writer: James Robinson. Artist: Nicola Scott. The greatest heroes on a parallel Earth, the Justice Society combats threats that will set them on a collision course with other worlds.
Thoughts? I'd love to see good old Damian holding down the cowl.