Official: 'Star Wars' Han Solo movie coming; helmed by 'LEGO MOVIE' directors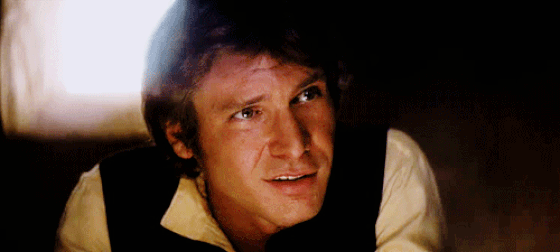 Holy crap. How do you get me to care about a Star Wars flick about Young Han Solo? In a fucking hurry? Eradicating my reservations? Put the minds behind LEGO Movie in charge of it.
After an initial report from The Hollywood Reporter citing unnamed sources,StarWars.com has confirmed that "LEGO Movie" and "21 Jump Street" directing team Phil Lord and Christopher Miller are taking on one of the Star Wars spinoff feature films — one starring a young Han Solo.

The film will feature a screenplay from "Force Awakens" and "Empire Strikes Back" scripter Lawrence Kasdan as well as his son Jon Kasdan. The story will be set before the events of 1977's "Star Wars" and will focus on "how young Han Solo became the smuggler, thief, and scoundrel whom Luke Skywalker and Obi-Wan Kenobi first encountered in the cantina at Mos Eisley."

"We're so excited to be working with Chris and Phil, who will bring a fresh new dimension to the Star Wars universe," said the Kasdans in the official release. "They're two of the smartest, funniest and most original filmmakers around, and the ideal choice to tell the story of Han Solo, one of the coolest characters in the galaxy."

A spinoff starring a proto Solo has been rumored since the in-betweenquels were first announced. The first one, "Rogue One," will be directed by Gareth Edwards and is scheduled to be released on December 16, 2016. THR makes sure to note that this project is not the same one that Josh Trank was in line to helm before he parted ways with Disney and Lucasfilm. That project is still rumored to be a Boba Fett origin and is still looking for a director.

The Hollywood Reporter also says that this sudden development could throw a wrench in Warner Bros.' plans to have Lord and Miller direct their live-action Flash feature film starring Ezra Miller; "Flash" has a March 2018 release date and is most likely on the lookout for a new director considering when the Han Solo project is dropping.

The Han Solo Anthology Film is slated for release on May 25, 2018 and will be executive produced by Lawrence Kasdan and Jason McGatlin and co-produced by Will Allegra.