CHRIS PRATT starring in 'JURASSIC WORLD.' Ayo!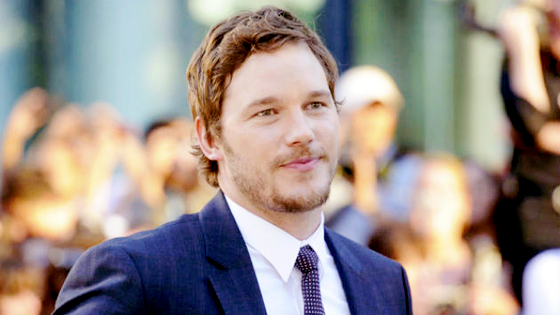 Chris Pratt isn't rocking that laziness tip these days. Guardians of the Galaxy, Parks and Rec, a role in Her. Now the good sir who plays my spirit animal (Andy Dwyer) is going to be starring in the next Jurassic Park flick.
Guardians of the Galaxy star, Chris Pratt had been pegged to play a "rugged ex-military" character for Jurassic World back in November. Thanks to a tweet from director Ron Howard(not the director of Jurassic World, mind you), Pratt is set to co-star with his daughter Bryce Dallas Howard.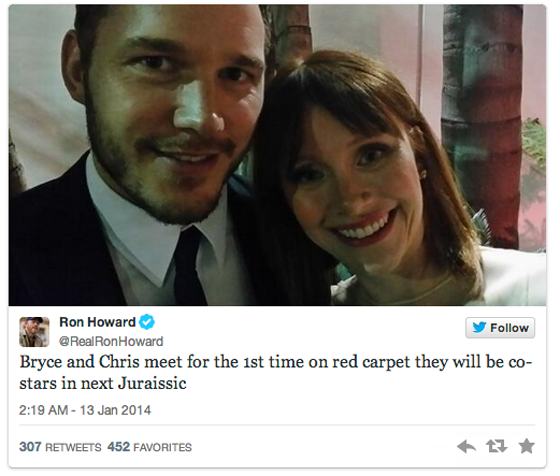 While there's no official word from the studio, I'd say it's a done deal.

The last we heard on the Colin Trevorrow-directed film was that it was absolutely a sequel and not a reboot. Many were thinking that left the door open for previous actors from the franchise to show up. But signs aren't looking good for Dr. Grant.

"Look, you never say no. I think there's a whole new cast and a whole new look at things, and I think that's great," Neill told The Examiner. "As I said, I'd never say no, but I wish them… well, I'm sure it's going to be great, but they don't need me."

That makes us sad but in the same interview he expressed an interest in working on J.J. AbramsStar Wars. I could get behind that.
Way to play it cool, Dad! Jesus Christ. What do all you folks think of this? I wasn't really caring about the movie, but I got myself a soft spot for the formerly soft-bodied (you've left us doughy guys feeling lonely, Pratt) actor.