Cosplay: TEENAGE MUTANT NINJA STORMTROOPER. Eat it, Michael Bay.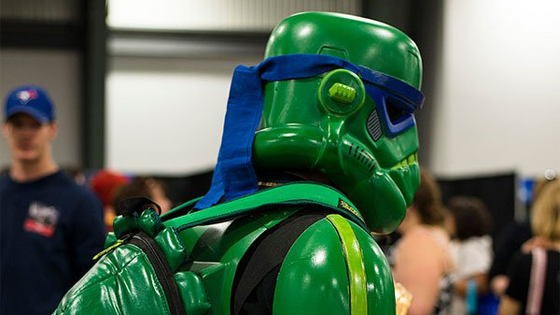 Now this is a reimagining of the Ninja Turtles that I can get behind. Motherfuckers get busy thrashing Splinter, then they turn their sights onto infiltrating the Empire with the help of a whiny farm boy. Grab the princess, blow up the space station. Pizza for all.
Just when you think you've seen it all, you see a Teenage Mutant Ninja Turtle Stormtrooper. Cosplayer Darcy Langille was spotted at Ottawa Comiccon, and the story according to a commenter at Geeks Are Sexy is that he bought the armor online because he wanted to join the 501st Legion. However, it ended up not being from an approved vendor so he turned it into a turtle. Because he's awesome.

Photographed by cmbdphotography.