'BIOSHOCK INFINITE' Collector's Editions revealed. But what if it sucks?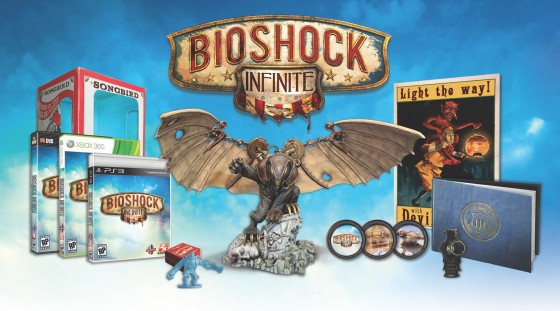 Yeah, I went there. As much as I want to be hyped for the fucking BioShock Infinite Omega Level editions, I can't get there. People are leaving that game's development team like it's a flame-covered donkey ride in the middle of the ocean. What is that, exactly? Fuck you! I don't know. Anyways, so yeah. Buy these. At your own risk.
Irrational Games today revealed Premium and Ultimate Songbird limited editions ofBioShock Infinite, the latter including the above 9.75 inch statue designed by Irrational concept artist Robb Waters.

Both editions include a 64 page mini-edition Art of Columbia art book, a 25mm resin-cast Handyman figure which ties in to the upcoming BioShock Infinite board game, a 5×7 inch lithograph depicting propaganda for Devil's Kiss vigor, a Murder of Crows replica bottle keychain, the digital soundtrack, and three exclusive in-game power-ups. Also included for Xbox 360 are exclusive Booker and Elizabeth costumes, while PC and PS3 owners getBioShock Infinite themes.

After teasing a fewpartialphotos of the Songbird, Irrational today finally unveiled the limited editions along with their prices. The Ultimate Songbird edition featuring the statue is priced at $149.99, while the Premium Edition sits at $79.99. Irrational warns that both editions are only available in limited numbers, so if your interest couldn't possibly be more piqued you can head here to set up pre-orders.