'BLACK OPS II' gets two ridiculous editions. Care package and Hardened. Freudian wet dream.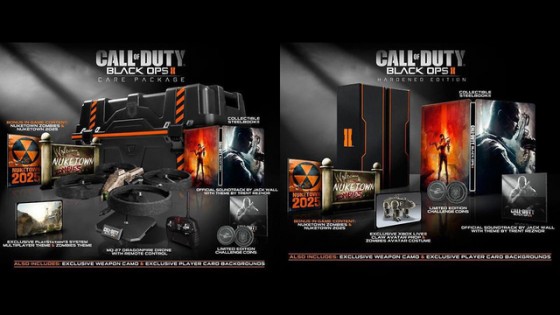 We can't go a year without a new Call of Duty dropping some over-the-top wallet fucking edition, can we? Hell no. It's about as American as it gets. November is football, turkey, and expensive killing packages.
As it does every year, Activision is stepping up to the plate to represent Call of Duty fans so dedicated that spending merely $60 on a video game does not properly express their love and devotion. A pair of images appearing on NeoGAF in advance of an official announcement demonstrate two ways to pay significantly more for Call of Duty: Black Ops II.

While we patiently await word on how much we'll pay for the Hardened and Care Package editions of Black Ops II, we can at least examine the contents of these limited editions. The Special Care package in particular is intriguing. Packed inside the massive box teased via the <em>Call of Duty Twitter yesterday is your very own hovering attack drone, just waiting for you to figure out a way to weaponize it. And hey, is that a PlayStation 3 theme? Sold?

Meanwhile the Hardened Edition features everything the better one does excepting the box and the attack drone. Oh, and an Xbox Live Avatar prop. Woo.

As Polygon notes, neither package seems to include Call of Duty Elite access, though both include exclusive weapon camo, which is essentially the same thing (only not).

How much would you pay? Expect Activision to answer that question shortly.