Image Announces New Titles From FRACTION, GRAHAM, CASEY, And More. Awesome++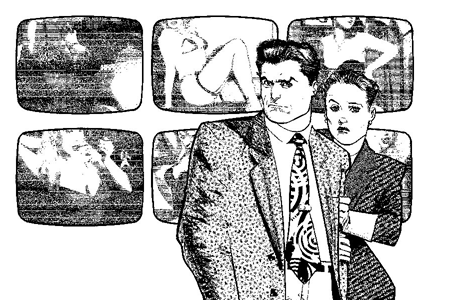 Sweet merciful lord, bare pity on me. I am not worthy of all the hotness that Image comics continues to unfurl. I am not. However, with your blessing I will sweat all over them like the excited fanboy I am. New works from Fraction? Graham? And more?
Stephenson introduced guests to join him on stage one at a time, giving them each an opportunity to discuss their upcoming work with Image. Joe Casey was first, and he discussed two books he'll be doing with Image. First was Sex, which the publisher previously dropped a teaser image in support of (that simply read "Image Comics wants you to buy Sex"). "Superhero comics have always sort of brushed against the concept of sexuality, said Casey. "It's time we just embraced it." Casey then announced The Bounce, which will be drawn by artist David Messina.

Darick Robertson came out next. He briefly discussed Happy, his previously announced miniseries with writer Grant Morrison, which he described as "A Wonderful Life meets Sin City." He and Stephenson then announced Oliver, a new monthly book written by Gary Whitta (The Book of Eli, Death Jr.), with art by Robertson. He called it a steampunk reinterpretation of Oliver Twist in a post apocalyptic future, and added that "It's Oliver twist but it's not Oliver Twist."

Next up was Kelly Sue DeConnick, who'll be writing Pretty Deadly, a western book starring a female assassin with a scarred face who's in competition for a prize she doesn't necessarily want. DeConnick said the story was inspired by the works of Sergio Leone. Pretty Deadly will be drawn by artist Emma Rios, who DeConnick previously collaborated with on Osborn.

DeConnick was followed by Chris Roberson, who'll be writing a new series called Rain, featuring art by Paul Maybury (Dogs of Mars). Roberson described Rain as a giant, sprawling epic fantasy, which he originally intended to be a novel but decided to make it a comic instead, "and have an artist with more talent than me do all the hard work."

After Roberson, writer James Robinson was brought up to the stage. He'll be collaborating with artist J. Bone on The Savior. A dark, alien invasion horror comic, The Savior stars a young stoner in New Mexico who uncovers an alien invasion, but has difficulty finding people who believe him. Robinson called it "Invasion of the Body Snatchers with a good dose of The Thing," and said that it starts in New Mexico but ends in Mexico, during the Day of the Dead. He confessed to being excited but nervous about working on a creator owned book again, saying "If this book isn't good, I have no one to blame but myself."

Next came Howard Chaykin and Matt Fraction, who'll be working on a book called Satellite Sam, a Golden Age television murder story "steeped in sex and violence." Satellite Sam is a children's TV Host who is found dead in what Fraction described as "a somewhat compromising position," with a box of photographs found next to him filled with pictures of every woman he'd ever been involved with. The book stars Satellite's son, who has to figure out who killed his father. Chaykin also teased another project he's working on for Image which isn't quite ready be to announced yet.

Satellite Sam will be Fraction's first work with Image since Casanova, which is now published under Marvel's Icon imprint.

Ed Brubaker was introduced next, to loud applause. While he's currently working on Fatale for Image, he didn't have a new book to announce. Instead, he sat on the panel for a bit to chat with both the other panelists and audience members, and later went down to the microphone in the aisle to moderate the Q and A with fans, which prompted DeConnick to describe him as "the worst Vanna White ever."

The last creator to be introduced was Greg Rucka, who'll be working on a new series titled Lazarus, with long time collaborator Michael Lark (Gotham Central, Daredevil). Rucka sold it as The Godfather meets Children of Men, and told fans that description "should be confusing." A hard science fiction story set in a dystopian future, Rucka called Lazarus a story he and Lark "have been planning for years."
Delicious.