ROBOCOP To Voice Batman In Animated 'DARK KNIGHT RETURNS'; Fanboy Convergence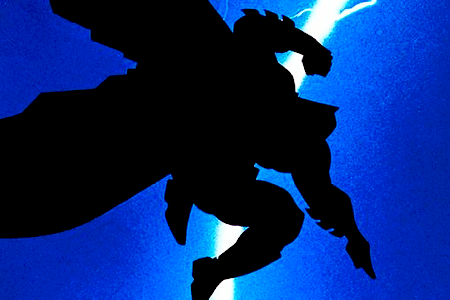 RoboCop is donning the goddamn cowl, in a manner of speaking. Peter Well, the one true Robotic Cop of my childhood, will be voicing the Bat in the upcoming Dark Knight Returns  animated adventure.
RoboCop  star Peter Weller provide the voice of Batman in Warner Bros.' animated adaptation of  The Dark Knight Returns, the seminal 1986 miniseries by Frank Miller and Klaus Janson,  Heat Visionreports. Ariel Winter (Modern Family) will play Robin.

First rumored  about a year ago, and then  officially announced in July at Comic-Con International, the direct-to-video adaptation will be released in two parts under the DC Comics Premiere Movie banner, which apparently will replaced the five-year-old DC Universe Animated Original Movies.  Batman: The Dark Knight Rises, Part 1  will debut in the fall, with  Part 2  arriving in early 2013.

Weller and Winter will be joined by veteran actor David Selby (Dark Shadows), Wade Williams (Prison Break) as Two-Face/Harvey Dent, and Michael McKean as Dr. Wolper, the psychiatrist who releases the Joker from the asylum.

The films are directed by Jay Oliva, who not only storyboarded Zack Snyder's  Man of Steel, but also helmed  Green Lantern: Emerald Knights  and several episodes of Cartoon Network's  Young Justice. Oliva also has in his corner exectuive producer Bruce Timm, who has overseen most of DC's animated projects since  Batman: The Animated Series.
Thoughts? Takes? Hot licks?