More 'PROMETHEUS' IMAGES. ALL THE TIME.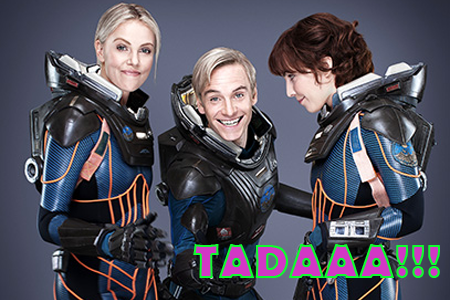 Phew. I was frightened. We hadn't been blasted across the nips with Prometheus  images in like, a day. Maybe even two. Here's some off the digi-presses, courtesy of Advertisement (Entertainment) Weekly.
In case you haven't figured it out by this point, the  Fox  marketing department's tactic for promoting "Prometheus" is essentially a winner-takes-all, carpet bomb campaign that will crush you with pics, clips, teasers and God knows what else, until you don't even want to see the movie anymore. Okay, who are we kidding, you'll still want to see this, but we kind of just wish we could fast-forward the clock already.

Anyway,  Ridley Scott  and the key cast of "Prometheus" —  Noomi Rapace,  Michael Fassbender,Charlize Theron,  Logan Marshall-Green,  Idris Elba  (and oh hey, there's  Kate Dickie  too) — feature in the smattering of new pics that include some images from the movie, but are mostly just these guys hanging out and being like total buds and everything. At any rate, it looks like they all got along great. What else can we tell you that you don't already know?  EW  will have even more intel inside their cover issue that lands on newstands tomorrow, so expect a few more morsels of info to leak out.