'EVE ONLINE' Developer Sends Its Players To Space; Sort Of. IT'S RAD.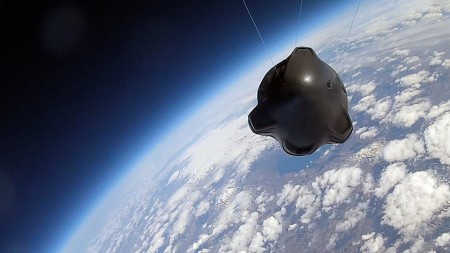 EVE Online  is one daunting ass community that I admire from a far. Motherfuckers be trashing each other's lives with subterfuge on the regular, and that sort of thing would push me over the ledge. I'm already teetering. It ain't all backstabbing and plotting though, as the community is tight-knit and the developer often respects these dedicated bastards. This week the game's developer CCP sent its players to space.
Sort of.
EVE Online  players spend their time zipping through the cosmos, making deals and trading goods across vast swaths of virtual space. So it makes a certain amount of sense that CCP, the studio behind the game, would want to send its players into space… or at least, get them as close as possible.

Last year, CCP  promised  to send the names of their players into space. Every paying subscriber with an active account, as of the stroke of midnight at the very end of 2011, was to have their character names and images included. Today, CCP made good.

Local university students launched a high-altitude weather balloon with a replica of one of the game's  pods  attached. They also attached a Samsung smartphone to the balloon, which provided  GPS tracking  information and snapped photos of the capsule's drift across the highest levels of the atmosphere. While not quite as glamorous as leaping through the interstellar void, the balloon did make it to a height of 100,000 feet, putting it in the literal stratosphere.
Radical swag, right here. It's also in stark contrast to a developer like Blizzard who generally responds to WoW complaints with "Fuck you, you'll keep playing." Not that they're wrong, but still. This is the berries.