FABLE: HEROES Turns RPG Series Into Brawler. Looks 10x Better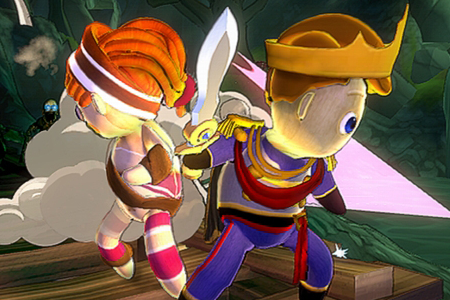 No one really gives a fuck about the Fable  franchise besides  Peter Molyneux. Don't lie. You don't. You don't. It's tepid at best. Filler at its least threatening. However in a week of leaks, Xbox.com has let forth info on  Fable: Heroes  early. First impressions? It's an arcadey co-op brawler. It looks awesome.
Hit the jump for images.
Seemingly jumping the gun ahead of next week's Game Developers Conference,  a listing on Xbox.com has appeared  for a game called  Fable Heroes.

Here's the product description:

 Fable Heroes is a fresh spin on the beloved Fable franchise in which up to 4 players play both cooperatively and competitively in this hack-and-slash adventure. Work together as heroes of Albion to defeat familiar foes and new enemies while collecting as many gold coins as possible to unlock upgrades, characters, and items in both this game and Fable: The Journey for Kinect for Xbox 360.

So it's  New Super Mario Bros. Wii  meets  Fable? I'd say that's terribly unexpected, but really, given Microsoft's first-party focus since the release of the Kinect that would be kidding myself.

It's being developed by Lionhead, and will be released on Xbox Live Arcade.

Given the sudden nature of the game's appearance, I'd imagine a more formal announcement is expected in the next day or two.