Variant Covers: Celebrate The Holidays With Creature Sex Crimes.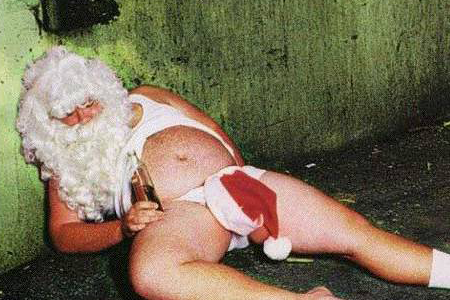 Happy holidays, ya'll! May the deity of your choice smile upon you. May your stockings be stuffed. This is Variant Covers, where I run down what comic books I'm checking out this week. 'Tis the season for some funny books. Especially with the snow, wind, and overall suckitude of the tangible environment these days in my neck of the woods.
—-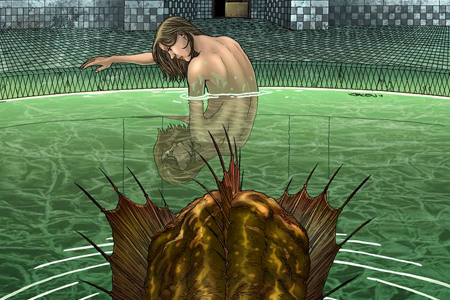 Neonomicon #3
Alan Moore's Lovecraftian nightmare conjured into reality continues this week with the third issue. The phrase "mind fuck" is bandied about these days to the point of uselessness. But friends, I can't resist. This comic book is a mind fuck of the strongest order.
Last issue saw a bathhouse orgy rape scene turn into the grandest of conjurations to summon some sort of reptilian creature seeking a fucking. I can't remember a comic book so creepy that it gave me the chills. But Moore is crazy like a fox, and has chosen this venue to pontificate on the ability to write reality as a narrative, and other rather weighty topics. It's the only comic that could be featured in a graduate course, and also be used to get fetish pornography thrown into a whole new venue.
Definitely not for everyone. But if you're into horror, steam house orgies, or meditations on narrative, I think you'll enjoyed this shit. As much as you'll be horrified. You don't see mythical creature cocks ejaculating into a woman's mouth and not be changed. Just a little. (Lot.)
—-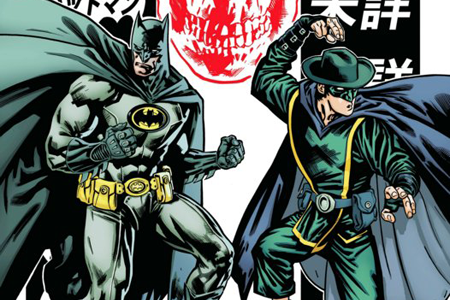 Batman Inc. #2
Batman's back. Slipped through the time stream, defeated Darkseid, and apparently became a God. What the fuck is left to do thereon out? Simple! Become a globetrotting recruited bent on franchising the mantle. Spreading his influence throughout the globe, now that Dicky and Damian have Gotham on lock down. It's a neat premise, and frankly its fun. Morrison has stripped down his narrative (or tricked me into thing so) and has Batman in the Land of the Rising Sun.
Dude ain't alone though, he's rolling with his lady Selina Kyle. It's refreshing to see Wayne cut loose. He isn't sitting in his cave, eat malt balls and brooding about his parents. Naw, he's in Japan fighting whacky dudes like Lord Death and making sweet love to latex heaven erotica chick Catwoman. It's about time the dude had some genuine relaxation.
I dig it.
Noteworthy DC Aside:
Douglas Wolk over at Comics Alliance is recommending Zatanna #8 on artwork alone. It's being done by Cliff Chiang, and after looking him up (I'm sorry, I don't know everything. In fact I know very little), the guy's work is gorgeous. Consider myself sold.
—-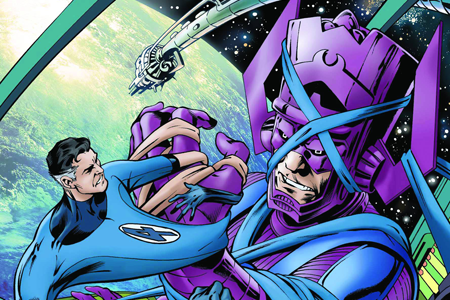 Fantastic Four #586
Comic book of the week for me, right here. God, do I ever love Fantastic Four. Or for that matter, anything that Jonathan Hickman puts out. Slap Steve Epting on the pencils and we have a megaton win. This week is part three of (fittingly enough) THREE, and we have Reed Richards throwing down with Galactus. The series is fucking brimming with wonder, and excitement. The F4 should think big, and Hickman does with it. Richards has gone beyond being a reactive member of the Marvel Universe. Since Hickman's run, he's posed the question: how do you solve everything? The storyline is threading the bits and pieces of a man who wants to draw up the architecture for humanity to actually go somewhere.
Beyond the fucking mall. Or to the scene of the latest supervillain crime. It's big time philosophy stuffed into the Marvel Universe's First Family. I love where Hickman's run has gone, and I can't wait to see where it's going.
Noteworthy Marvel Aside:
This week sees the culmination of Fraction and Lacrocca's Stark: Resilient storyline in Invincible Iron Man #33 Stark throwing down with Justine and Sasha Hammer, and the splash pages are sure to be plenty and glorious. I enjoy me some Stark: Resilient, but I'm intrigued to see where the title is going. As much as I like political commentary on the dangers of unmanned warfare, I get it.
Also, Marvel announced their latest event, Fear Itself. It must be the fucking eggnog talking, but I'm really excited. (Actually, it's because it is Matty Fraction and Stuart Immonen. Win ++)
—-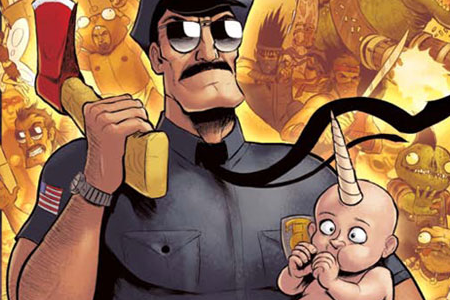 Axe Cop Volume 1.
Have you heard of Axe Cop? I haven't. But the internets are all aflutter today about tomorrow's first collection coming out. I have to say, the concept behind the comic is as interesting as the comic itself. Malachai and Ethan Nicolle originally started this as a web comic. But the twist? Malachai is five years old. He spins the yarns, and then his brother (who is twenty-nine) draws then and turns them into stories.
The premise is awesome (and something I'd come up with, since I have the mentality of a five year-old):
Axe Cop focuses on the adventures of a police officer who prefers to wield an axe in battle. Axe Cop tends to help people victimized by aliens; he often gathers other heroes with him to assist.
Super cute.
—-
What are you guys checking out this week? Hit me.