Monday Morning Commute: We're In The Endgame(s) Now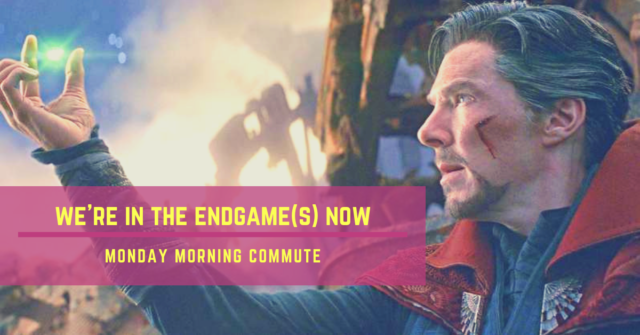 We're in the endgames now, my friends. With the crushing realization that the MCU As We Know It has about ten days left (less if you've seen the leaks), I'm beginning to descend into melancholic nostalgia. However, it isn't just the MCU that's wrapping things up. Nope! Johnny Wick's third and seemingly final adventure is right around the corner, and Game of Thrones' final season began on Sunday.
All three of those are reason for me to pause and mourn, but it ain't all bad news. You see, I'm also staring at less than a month left in the semester. Won't catch me crying over its demise, though. No way! No how!
Anyways, how the fuck are you? This is Monday Morning Commute. The column where we gather to share what we're enjoying on a given week. As well, we babble about what's dropping over the course of the next seven days that has us hype.
I'll go first!
—-
listening: CHON and Malibu Ken.
—-
playing: dead cells (we beat it, now we master it!), division 2, and nier: automata.
—-
appreciating: seeing plini live. first concert i really, really loved in a long time.
—-
worrying: my boston bruins have not looked good thus far in the playoffs.
—-
lamenting: the upcoming end of the Current MCU and John Wick.
—-
anticipating: the end of the semester.
—-
That's about it for me, my friends. Not much going on this week. How about you?