Monday Morning Commute: Higher. Further. Faster.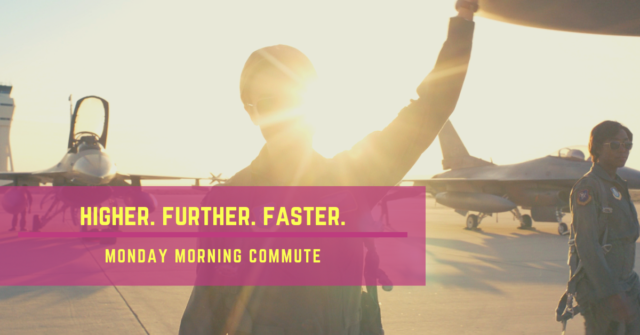 Hey, fellow crew mates of the Space-Ship Omega! How the fuck are you? I know it's been a minute since I punched out a Monday Morning Commute, but what do you want? I've been busy! I got mental health issues! It's cold, and snowy, and miserable, and I just want to lay under my anxiety blanket until the worm turns on this shit-ass season.
But, this week I've pushed through!
Ripping opening the door to the Space-Ship's common room and hollerin' for ya'll to join me in it! Come hang out, and let me know what you're looking forward to this week! As well, inform me of the various tunes, toons, tits, and other sundries you're currently enjoying!
Not sure how this works? Eh, I don't believe you! However, like any good spinner of pedagogy, I'll model the exercise first! Then, you join me in the comments.
—-
playing:
I've got a million unfinished games. So, what did I do? I bought NIER AUTOMATA. And let me tell you, the hype is real. Fantastic game.
—-
celebrating:
The brand is strong, baby! DESUS & MERO debuted their new show on Showtime, and a hole in my life has been filled. Welcome back, boys.
—-
watching:
I've been working through the third seasons of TRUE DETECTIVE and DAREDEVIL. The former is a return to form, the latter is so good I'm furious that it's canceled.
—-
listening:
new tunes by DANCE WITH THE DEAD and CARPENTER BRUT.
—-
anticipating:
You know, I thought I was cool on CAPTAIN MARVEL. But as it draws near, my MCU glands have begun to swell. They've begun to secrete the secret fluids. I'm finally stoked.
—-
watching:
I didn't know about LETTERKENNY until a month ago. Since then, though, it's been the funniest fucking thing in my life. A Canadian show, it almost feels like a spiritual successor to TRAILER PARK BOYS.
—-
reading:
I know, I know. I don't read fucking anything during the semester. However, Amazon has informed me that INFINITE DETAIL by Tim Maughan is arriving tomorrow (its release date). I first caught wind of this novel and its author courtesy of Warren Ellis' newsletter. So, I pre-ordered the motherfucker, and checked out Maughan's PAINTWORK. Not Earth-shattering, but enjoyable near-future science-fiction. Let's go!
—-
flexing on:
Okay, I'm not exactly flexing on DEAD CELLS. But, I'm looking forward to diving back into it this weekend on stream.
—-
welcome:
SPRING BREAK is next week for me, motherfuckers! Can't wait.
—-
fucking:
SNOW is going to break my spirit. But, we've never been closer to its end, right? Right?!
—-
That's it for me, folks! I've missed ya'll! Don't be a stranger! If you're reading this, hop into the comments! Let's high-five and low-brow together.