'Episode IX' wraps shooting and J.J. Abrams announces it with cast photo. I got all the damn feels, dudes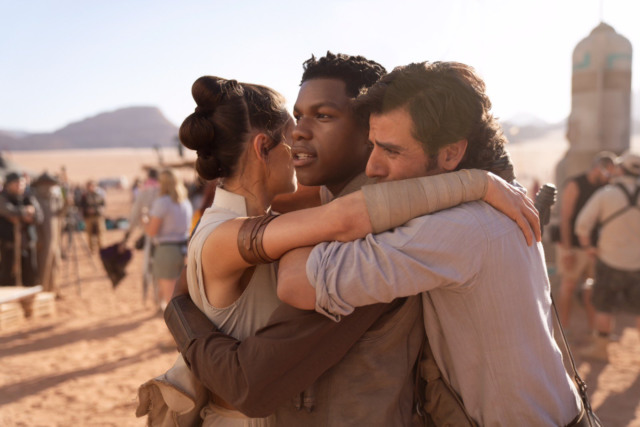 Hey! It's me! The last man on the planet (okay, aside from Rendar, Neo, Jerkface, and Bateman, I guess) stoked for Episode IX. And as the last man stoked, this picture hits me right in the groinal-feels.
Back in August 2018, JJ Abrams marked the first day of shooting on Star Wars: Episode IX with a Tweet. Now he's posted another update on social media, this time commemorating the final day of photography with a photo of his three lead stars. The filmmaker thanked his "truly magical crew and cast", sharing a pic of Daisy Ridley, John Boyega and Oscar Isaac embracing on a desert set. This is technically our first look at the cast in the next film – are they back on Jakku? Or Tattooine? Or another new desert planet in the galaxy far, far away?

"It feels impossible, but today wrapped photography on Episode IX," Abrams wrote on Twitter. "There is no adequate way to thank this truly magical crew and cast. I'm forever indebted to you all."

Boyega also Tweeted to commemorate the end of shooting: "That's a wrap on Star Wars episode 9 and the end to a chapter of my life that I couldn't be more thankful for. What a process! It really has been a joy to be in these movies surrounded by amazing people. JJ thank you for making my dreams come true."

Episode IX, still without an official title, will conclude the current Skywalker trilogy, and cap off the story of Rey, Finn, Poe Dameron and Ben Solo. The film will also act as a send-off for General Leia and Carrie Fisher, with Abrams using footage originally shot for The Force Awakens to craft an arc for the series' original heroine. Joining the cast this time are the likes of Richard E. Grant, Dominic Monaghan, Ker Russell, Matt Smith, and Naomi Ackie. We'll find out how the latest trilogy closes when Episode IX arrives in UK cinemas this December.