Weekend Open Bar: Sprang Breakk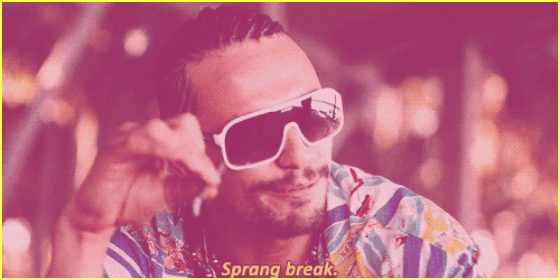 Oh, Lords of Kobol. Bless this rotten husk of a human. My week is over. After a stressful week of prepping to present at a conference, teaching, weeping, teaching, tutoring, prepping, driving to the conference, masturbating into a vial of tears in the lonely hotel room, presenting at the conference, and driving home. And to top that sweet, delicious-ass rump of a factoid off, it's also SPRANG BREAK!!! So let's gather around, folks. Pull a chair up to the Weekend Open Bar. The column at the end of the Universe where the degenerates aboard Space-Ship Omega (and you!) share what they're up to over the course of the next two days.
Let's chat about what we're up to this weekend. Let's chat about the silliness that is the concept of the immortality of the soul. Or let's shirk the serious shit and post gifs of beards, butts, and cats. Whatever works for you!