'Star Wars' News: Marvel's 'Shattered Empire' begins the bridge to 'The Force Awakens'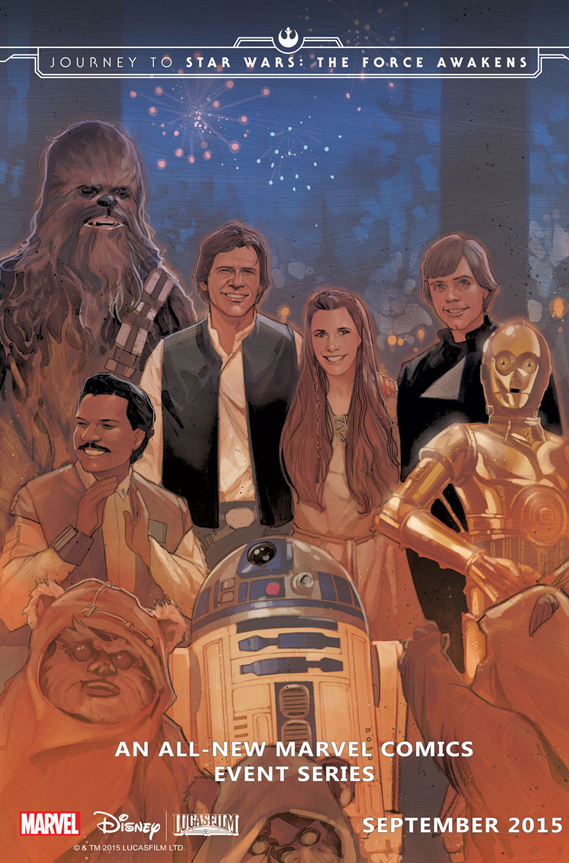 The Dead Mouse, Darth Vader's Exploited Husk, and Marvel are teaming up to bridge the gap to The Force Awakens. The company announced as such earlier this week, revealing they're dropping a fucking colossal twenty books (comics, novels, et cetera, whatever) to bridge the gap between Jedi and The Force Awakens. The first of which shall be Marvel's Shattered Empire.
Marvel looks to fill the gap between "Return of the Jedi" and "Star Wars: The Force Awakens" this fall with "Star Wars: Journey to the Force Awakens – Shattered Empire," a new comic book series set to start in September 2015. First revealed Friday afternoon on StarWars.com, there's no creative team or plot information available at this time, but the first teaser image, illustrated by "Black Widow" artist Phil Noto, depicts the festive heroes of the Rebel Alliance in midst of the Ewok-filled celebration scene that closed the original trilogy.

It's not yet clear when more information on "Shattered Empire" will be revealed, but it's worth noting that the latest iteration of "Star Wars Celebration" is a month away — happening April 16 to April 19 at the Anaheim Convention Center. It's also worth noting that StarWars.com calls "Shattered Empire" Marvel's "first entry in 'Journey to Star Wars: The Force Awakens,'" implying that more series under that heading could be on the way.

Fans got the first hint this series was coming earlier this week, with news that about 20 books of various format were in the works to bridge the gap between Episode VI and Episode VII, including Marvel's "Star Wars: Journey to the Force Awakens" and a C-3PO-centric series.
Can't wait!