MICHAEL DOUGLAS IS HANK PYM in 'ANT-MAN.' Wait wut?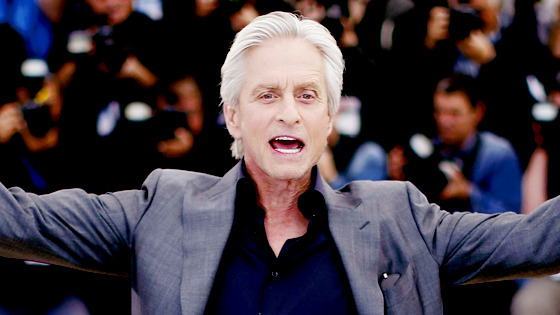 Well then. Broken news has broken in the Marvel Cinematic Universe. Looks like Paul Rudd is going to be playing the more comedic, younger Ant-Man. With Michael Douglas playing an older Hank Pym.
Word has just hit that Michael Douglas, fresh from his Golden Globe win for Behind the Candelabra, will be in Edgar Wright's Ant-Man. He'll be the first Ant-Man, Henry "Hank" Pym. That pegs Paul Rudd as Scott Lang, who becomes Ant-Man after stealing Pym's tech.

Marvel confirms those details. (Variety, in a story that has since been changed, said Douglas is the villain in the film, without naming his character. That's an interesting clash of info, but likely just an error on the trade's part.)

We have more details below.

Marvel's Kevin Feige said,

With Hank Pym's rich history in the Marvel Universe, we knew we needed an actor capable of bringing the weight and stature to the role that the character deserves. We felt incredibly relieved when Michael Douglas agreed to step into the part with the charm and fortitude he brings to every character he inhabits, and couldn't be more excited to see what he will do to bring Hank Pym to life.

Going back many years, to when Wright was putting together Scott Pilgrim, there's a comment from the director about how he then planned to incorporate both Pym and Lang into the story.

…what we want to do, the idea that we have for the adaptation is to actually involve both. Is to have a film that basically is about Henry Pym and Scott Lang, so you actually do a prologue where you see Pym as Ant-Man in action in the 60′s, in sort of "Tales to Astonish" mode basically, and then the contemporary, sort of flash-forward, is Scott Lang's story, and how he comes to acquire the suit, how he crosses paths with Henry Pym, and then, in an interesting sort of Machiavellian way, teams up with him. So it's like an interesting thing, like the "Marvel Premiere" one that I read which is Scott Lang's origin, it's very brief like a lot of those origin comics are, and in a way, the details that are skipped through in the panels and the kind of thing we'd spend half an hour on.

Some of those details may have changed, but that's likely still the general outline of what we'll see when Ant-Man opens on July 31, 2015.

[/Film]
I'm fine with all this. As much as I enjoyed the gritty, ugly nature of Hank Pym as depicted in The Ultimates, I feel like the Lang-powered Rudd will gel more with the established Avengers cast. And in general I feel as though Wright, Whedon, and Feiege have more than earned my trust at this point.