Opinions Vary: I Miss Nintendo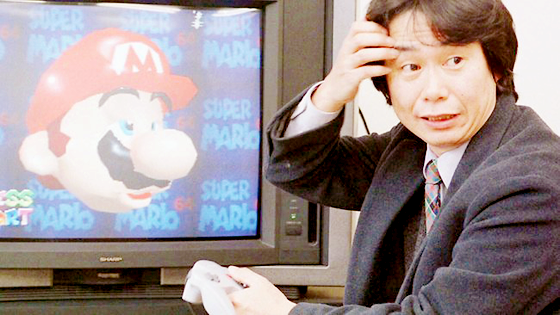 Two weeks from tomorrow, the PlayStation Fun Machine the Fourth drops. Three weeks from tomorrow, the Microsoft Xboned Before It Arrives will hit shelves. With the  console gaming world embroiled in the debate as to the merit of both machines, an olden warrior sits in the corner. Sales dismal, library laughable, nary a soul gives a fuck about the Nintendo Wii U.
Myself included.
I miss the days when I gave a fuck about Nintendo.
A Personal Timeline.
Columbus Day weekend , 1991. Through tears and guilt I convince the even-then desiccated husk of my grandmother to buy me a Super Nintendo Entertainment System. While she fails to buy my love, that weekend goes down as one of the greatest in my life.
Instantly Super Mario World becomes my favorite game of all time.
Thursday, September 26, 1996. The Nintendo 64 is released three days early at the local Electronics Boutique. I buy the console on release after cobbling together money across a summer of saving my allowance.
I cut school that Friday. My friends and I play Super Mario 64 throughout the weekend, pausing intermittently to embrace the Zen-like beauty of Pilot Wings 64. There is a good chance we all awkwardly masturbated in the bathroom during breaks from play. Thirteen year old boys are confused by their boners.
I still am.
Instantly Super Mario 64 becomes my favorite game of all time. And that weekend goes down as one of the greatest in my life.
Sunday, September 14, 2001. The GameCube arrives on store shelves. In what would become a trend, it arrives without an essential Mario game. I buy the system only vaguely aware of why I'm doing it. (Nostalgia.) It quickly begins wasting away in my entertainment shelf as the PlayStation 2 unleashes one of the greatest autumns in gaming history. FFX, DMC, GTA3, and more dominate my life.
A fat, virginal eighteen year-old, I bury myself in the world of Spira not noticing how much I don't care about the GameCube.
Sunday, November 19, 2006. The Wii hits store shelves. My friends and I wait ten hours outside a local Best Buy in order to secure the system. It's a great time filled with music, jokes, fellow gamers, and I believe watching Ali G. The system launches with Wii Sports. I don't know it then, but I would play Wii Sports' tennis more than any other title.
Yet again there is no killer game.
After getting the console I go home and fall asleep. Nintendo's beauty is beginning to fade.
An undiagnosed manic-depressive virgin, I bury myself in Ambien and Battlestar Galactica.
Some dumb day, 2012. The Wii U hits shelves. It features no Triple-A title. A year later it still doesn't. The controller looks like a cross between a mentally ill artist's rendition of an iPhone, and a flat bread pizza.
For the first time in my life, I don't buy a Nintendo console on release day.
I still don't own one.
The Slow Sad Slide
It's been seven years since I bought a Nintendo console, twelve since I was genuinely excited by the launch, and seventeen since it arrived with a world-beating title. Thinking back on my gaming life, the entirety of my adolescence is ensnared by Nintendo Magic. Thinking about how excited I am about the release of the PlayStation 4, I realize it's more of a techno-fetish appraisal than a genuine desire to bask in a magical experience.
Much like the drooping of my balls and the graying of my hair, the decline of my love for Nintendo is nearly imperceptible. Much like my sad, saggy testicles and my graying hair, when I pay attention I can see just how much my relationship with Nintendo has changed.
It's a bummer.
I'm sure there are those out there who genuinely enjoy their Wii U. And that is to say nothing of the Nintendo 3DS, which is a nifty little device. How nifty? I'm inclined to buy one of those before I even sniff a Wii U. The library looks gorgeous. But I've never been a handheld guy, and I don't think the 3DS will be the handheld to push me into a world of rapturous handheld obsession.
I'm sure that someday I'll buy a Wii U. There's no way I can turn down a genuine Mario or Zelda title.
But it ain't the same.
I miss the days when a Nintendo console had me skipping school. Had me pinching pennies. Had me spending some of the best days of my life exploring a Miyamoto Masterpiece. These days at best a Nintendo console is something I begrudgingly purchase so I can play one or two titles while using it the rest of the time as a resource for harvesting batteries for my other systems' controllers.
I'll get my PlayStation 4 on November 15. I imagine I'll even enjoy it. However it won't be the same as the days when the Mustachioed One would usher in a new plastic-packed pixel heaven. I miss giving a fuck about Nintendo.
I miss Nintendo in general.