'MAN OF STEEL' SEQUEL WILL BE A 'SUPERMAN & BATMAN' FLICK. WOAH.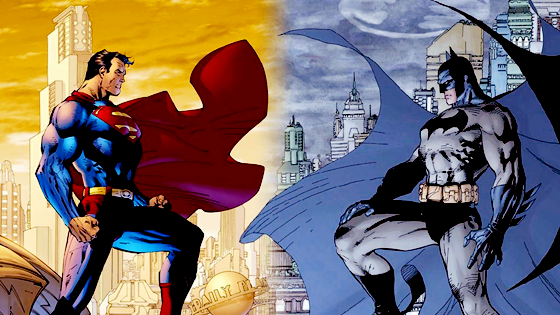 Sweet crap on a cracker, I didn't see this coming. Warner Bros. is going to be following up their disaster porn extravaganza Man of Steel not with the Justice League flick like many anticipated. Instead, they're going full-tilt towards a Superman & Batman team-up movie.
This is unexpected news. Warner Bros.' Comic-Con panel isn't until later today, but apparently some major news is about to be announced. The L.A. Times' Hero Complex blog is reporting that the studio has decided what their follow-up film to "Man Of Steel" is going to be, and not it's not a Superman sequel or a "Justice League" film. According to the newspaper's blog, WB intends to announce a film that features Superman and Batman together; a team-up movie as it were. A 2015 release is being eyed.

"Man Of Steel" director Zack Snyder is expected to reunite with his writer David S. Goyer, who also co-wrote many of "The Dark Knight" movies with Christopher Nolan (though in some cases he only received a "story by" credit).Henry Cavill, signed on for the franchise, is expected to return as Superman, but don't expect Christian Bale to return as Batman as he has stated several times over now. Nolan's involvement is said to be unclear at this time. This is obviously massive news, and perhaps a perfect bit of synergy for DC Comics. At the end of June, they dropped the first issue of "Batman/Superman" penned by Greg Pak and illustrated by Jae Lee, but again, it's not certain if that new series will play any part of the movie (something tells us, probably not).

But if this does indeed shake out, it looks like Warner Bros. are again changing their approach to building to a "Justice League" movie. Previous reports suggested that they would make "Justice League," and then spinoff standalone character movies from there. And even last month it looked like Warner Bros. were going toward "Man Of Steel 2" first, but it looks like they are now changing gears. "Man Of Steel" –> "Superman & Batman" –> "Justice League"? That would certainly be a a way to go. And while we'd prefer exploring the new world of "Man Of Steel" a bit more, this approach doesn't betray the groundwork they've laid down.
What are your thoughts? Me? I'm torn. I love the idea of the film. Unfortunately, I'm done expecting anything good from either Zack Snyder or David Goyer. So history has led me temper my expectations about this flick, and then lower them even further. (And yet there is the Stupid Optimistic kicking at the back of my cynical seat. Telling me this is the awesomest thing ever. Shh. Shh.)
Also – who is going to be the Batman? Go!
[More on this as it is officially announced or whatever.]