Vin Diesel: "I CAN'T SAY ANYTHING ABOUT VISION", which is SAYING SOMETHING.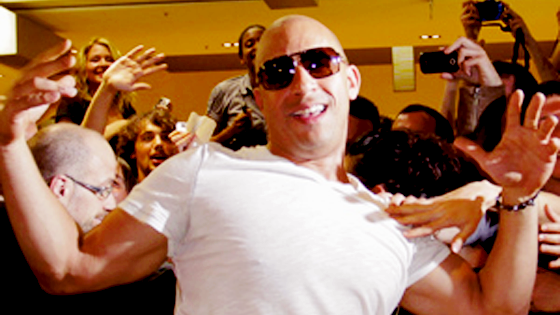 This is one of those "No comments" that actually sort of is a fucking comment. You know? Big Poppa Furious was asked about his role in the Marvel Universe, but declined to offer specifics. He did however promise big news at the end of the month.
Do you want to know if Vin Diesel will be playing will be playing the Vision in the upcoming Marvel movies? So did one fan, who asked a question during today's Riddick panel at Comic-Con. Diesel's response? He's not allowed to talk about it.

When Diesel asked for one final question during the Riddick panel, a fan stepped up to the microphone and said, "It seems like every movie you're in, you become the face of that franchise, so I'm wondering, I guess the word is Vision? What's your Vision of the upcoming Marvel movies?"

Diesel laughed, "Why did I have to go ahead and say, 'Ask the question'? He asked the one question I'm not allowed to say anything about. Well, I will say there is some very big news coming at the end of this month."

As the audience cheered, Diesel added, "Poor Marvel."
So what does everyone think? I'm confused as to why everyone thinks he is going to be Vision. Or more specifically: why he would ever be cast as Vision.