KOJIMA IS F**KING TROLLING US, RIGHT? KIEFER SUTHERLAND is voicing SNAKE in 'METAL GEAR SOLID 5.'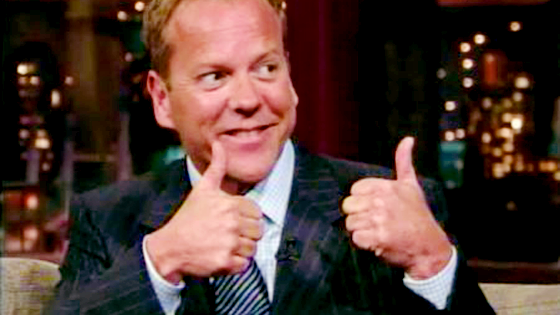 I have a hard time believing that Kiefer Sutherland is actually voicing Snake in Metal Gear Solid 5: Kojima Fucks With You. I mean, Kojima has pulled our collective undies over our head too many times for us to just believe this. Right? Right?! Do you?
Kiefer Sutherland will provide the voice for Metal Gear Solid 5's iteration of covert espionage action hero Big Boss, previously known as Naked Snake, Konami has just announced during its pre-E3 livestream.

This isn't the first time Sutherland's name has popped up in related to Metal Gear – a trailer presented during this year's GDC sparked debate when a very Sutherlandish voice was heard emanating from Snake's bandaged hospital companion, Ishmael. Whether Sutherland is the voice actor for both characters, and what implications that may have for the game's story, remains to be seen.

The British/Canadian actor is perhaps best known for his time as Jack Bauer in the action/drama television series 24, but we prefer to think of him as the voice of Bosco in 2010's live-action Marmaduke adaptation.