Playstation 4 announced – My Orbis is tickled; is yours?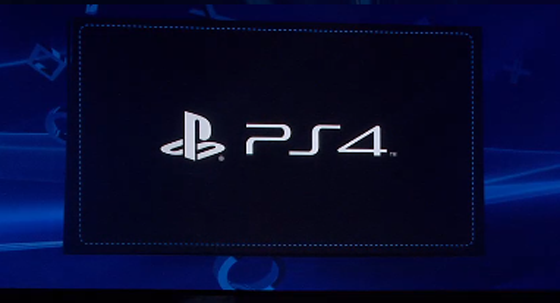 Sony has unveiled their next-generation platform at today's much anticipated Playstation meeting event.  You can guess the name they went with.
In a two-hour event live-streamed through every major media outlet, the new console, its UI, its core features and its first games were shown off to the world for the first time.  Let's get to all the meat unveiled today.
The PS4 is, based on the 10-minute rambling of some dude ten minutes into the show, obscenely powerful.  8 GB of some of the fastest RAM available and cutting-edge everything else means we have a visual feast coming at us on par or beyond the efforts of today's cutting-edge PCs.
The Dual Shock 4 controller looks identical to the previous iterations of the Dual Shock, save a touch pad housed in the gap above the control pad and face buttons.  The controller allegedly has improved everything, from battery life to rumble functionality.
A sensor bar equipped with a stereo camera will be the system's main accessory to the controller.  Looks and sounds like a Kinect, at least on paper.
A Share button on the controller lines up with Sony's new social philosophy with the PS4.  As rumored, the PS4 can natively share videos with other users, the way screenshots are shared on the PS3.  All recent gameplay seems to be recorded in system memory (for who knows how long – probably 15 minutes or so) and can be shared at any time.
Better still, a native spectator mode seems to be available on the PS4 that allows users to watch any of their friends play games live, even if they don't own the game themselves.  And then, actually offer assistance, including the option to jump in and play for the primary player who was having difficulty.
Gaikai, Sony's big acquisition in streaming technology, was brought out to disappointingly confirm that the PS4 will not have any native backwards compatibility, but that the streaming tech behind the PS4 will permit some form of BC in the future from PS1 through to the PS4.  More importantly, the tech will allow users who purchase or demo PS4 content digitally to begin playing almost immediately while the software downloads in the background.  Truly amazing.
Ease of play was a huge part of the messaging here.  Streaming was part one.  System optimization was part two.  The main highlight here is that the system can be paused and put to sleep at any time, with all game progress committed to the system RAM.  No more hunting for a fucking save point.  Excellent!
And finally, before getting to the games, the Vita was given a new lease on life as Sony's 'Wii U' solution.  The Vita will function as a remote play handheld for the PS4, being able to play most PS4 titles remotely using the PS4's computing power.
Games shown today purportedly all run in real-time on the console.  Most looked incredibly pretty, and honestly, I'm excited.  Aside from some sequelitis and rehashes, great stuff was on display:
KNACK – A Pixar film come to life featuring a mute character that seems to be made up of floating found-objects, and who can alter his mass and size at all will by incorporating objects it continues to find, or by abandoning them.  The gameplay possibilities seem pretty incredible.
Killzone: Shadow Fall – Looks exactly like what you'd expect; the next Killzone.  Shinier, faster, tighter, but more of the same.
Drive Club – An incredibly realistically modeled racer – it looks outstanding, but the presentation today wasn't showing off anything else in particular.  The developer came on stage, showed the game off and just emphasized how detailed and pretty the motherfucker was going to be.  (It looked pretty)
Infamous: Second Son – Looks exactly like another Infamous, albeit prettier.  Crossed with some stray Prototype DNA.  Fancy.  The footage definitely looked more like a prerendered cutscene than any other footage shown tonight.  Featuring a new protagonist with 'attitude'.  *clap*
The Witness – The next project by Jonathan Blow, the creator of Braid.  This is a timed exclusive for the PS4, and looks like Adventure of Line-Puzzle Island.  Accompanied by some beautiful, haunting music, the abandoned island that plays host to the game is incredibly colorful and packed with….line puzzles.  It'll probably blow our minds just like Braid did, leaving us impressed, but also wondering why we're impressed.  Just like Braid did.
Quantic Dream tech demo – David Cage came out, and just showed us what character models would look like in their future games.  The model of an old man's face was shown, and it'll pretty much blow your mind.  The dude's skin, hair, and most importantly, eyes, were about as staggeringly realistic as any real-time model's ever been.  Amazing stuff.
Media Molecule – A dude from the studio that brought us Little Big Planet demo'd a 3D sculpture demo using the Move Controller, which seems to be alive and well as an accessory for the PS4.  Allegedly, the incredible models and techniques on display were all possible solely using the Move.  They proceeded to show off a demo that effectively allowed MM staff to puppeteer the models they'd created for a band show.  Seemed a neat combo of hilarious (like, Wii Music demo circa E3 2008 hilarious) and amazing (because of the potential on display).
deep down and Yoshinori Ono of Capcom – Dude comes on stage and flamboyantly sweeps away the drudgery of previous speakers.  Shows off an evolution of the MT Framework engine codenamed the Panta Rhei and a new title running on it, tentatively titled 'deep down'.  Gameplay footage showed off a dragon fight that makes a Skyrim duel look antiquated.  Let's hope it lives up to the potential of the minute-long clip on display.
Square Enix – A non-game presentation, rather, another tech demo, running on SE's Luminous Studio.  It looks amazing; it's Agni's Philosophy again.  At this point, the dude on stage announces with great pleasure, Final Fantasy's Brand Director for one more announcement.  This guy comes on stage, and through 30 painful seconds, manages to announce, clumsily, that we should be excited for E3 before marching off stage.  It was THE blue balls gaming moment in recent memory.
Watch Dogs – Ubisoft rescues things with an amazing Watch Dogs presentation.  Another demo very much like the one shown off at E3 last year replete with exciting chase sequence.
Diablo III – Blizzard and Chris Metzen are on stage announcing a new partnership between Sony and Blizzard, including Diablo III for both the PS4 and the PS3.  The audience forces applause.  Split-screen gameplay confirmed.  Which is neat.  I guess.  If anyone still cares about this game.  Still, Blizzard on consoles with one of their big-hitters is exciting.  Let's hope they wise up and go for an original IP on the system soon.
Destiny – Termed the first 'shared-world-shooter'.  Looks gorgeous with an art style that moves beyond Halo's.  It's an online, persistent world shooter, if that wasn't clear in its initial reveal.  It'll be both a PS4 and a PS3 title, and will have content exclusive to the Playstation platforms.
Miscellaneous post-show notes:
• It's coming soon – Holiday 2013.
• No price yet, but that's not a surprise.  Current rumors are two SKUs at $429 and $529.
• Nothing, disappointingly from Naughty Dog, Irrational Games, Valve or thatgamecompany, but we know good stuff's probably coming.
• No glimpses of the actual console unit.  SUSPICIOUS?
• The brand messaging is fucking excellent – huge emphasis on Sharing, Ease of Development, and Ease of Play.
• This is going to be a much easier system to develop on by the accounts of all developers featured in the show, a huge revision on the development wall that the PS3's cell architecture supposedly created.  At one point in tonight's show, a speaker actually commented that the PS4's architecture allows excellent conversion and translation from the PC development space.  Good news for multi plats!
• Move is alive.  Vita is alive.  Miracle of miracles.
I am excite.  Are you?  Post below and let us know!