JESSICA BIEL To Play Viper In 'THE WOLVERINE', The March Of Irrelevance Continues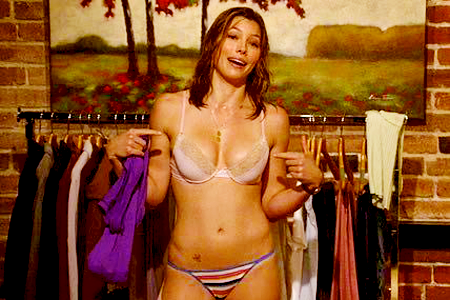 I love me some Jessica Biel. Don't get me wrong. It's just that it's going to take more than her to get me stoked for The Logan Guy.
Deadline says she's accepted the role. Back when Darren Aronofsky was working on "The Wolverine" (which now feels like a million years ago), it was reported that he'd be essentially using an entirely Japanese cast for the film, obviously excluding Hugh Jackman as the title character, as the film reflected some of the character's most popular Japan-set tales. Nearly two years later, the film is finally gearing up for production, with James Mangold in the director's chair, and all the casting announcements so far — Hiroyuki Sanada as gang boss Shingen, Tao Okamoto as his daughter Mariko, Rila Fukushima as assassin Yukio, Hal Yamanouchi as gangster Yashida, Will Yun Lee as villain Silver Samurai, and Brian Tee as a corrupt politician — have reflected that.

But it seems like somewhere along the line, plans changed, as Twitch are reporting that another offer has been made to a cast member, and they're very firmly not Japanese, with Jessica Biel being sought to play the villainess Viper in the film. Viper originally begun as a Captain America antagonist (though presumably falls under the X-Men rights package), who later became a lover of the Silver Samurai, tasked with assassinating Mariko through poisoning, only to be thwarted by Wolverine. In later comics, however, she became more ambivalent, blackmailing Wolverine into marrying her, and developing real feelings for him. The character has no real superpowers, but is skilled in killing things, often with snake-themed weapons.
Excited? Yet? No?