'FANTASTIC FOUR' REBOOT Being Penned By Jeremy Slater. I Am Not Familiar.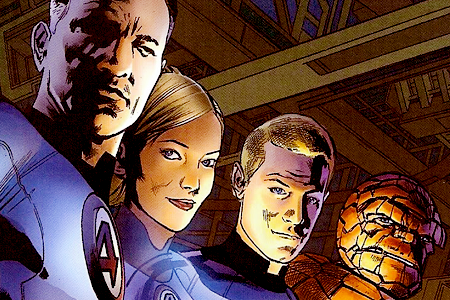 The Fantastic Four reboot that is being helmed by Josh Trank has landed itself a writer by the name of Jeremy Slater. I am not familiar with this lad.
When some of the details on Fox's new Fantastic Four film were announced a couple days ago — primarily that Chronicle director Josh Trank would indeed direct the new film — one detail was not reported. That was the name of the film's screenwriter, who has been developing the new take on the classic Marvel Comics team with Trank.

The man scripting the new Fantastic Four is Jeremy Slater, whose script Score hit the Black List of popular unproduced screenplays a couple years back, and who has been fighting through the studio trenches for some time.

My disclaimer here is that I've known Slater for years, and I couldn't have a higher opinion of the guy. So I won't pretend to be objective here. But he's a smart guy with a wicked, dry sense of humor, and I like his writing a lot. When I learned that he was in the running for this film, combined with the fact of Josh Trank's involvement, my outlook on the reboot changed compeltely. I think there's a good chance they'll produce a vision of the Fantastic Four that offsets the not-so-great films released a few years ago.
All in all, I'm stoked for this flick. They had me at Josh Trank.