'EARTH 2' WRITER James Robinson: Alan Scott Won't Be The Only Gay Character In Earth 2. I'd Hope Not.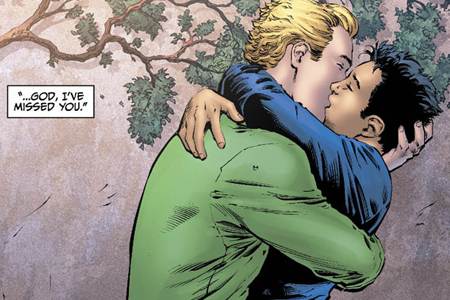 Alan Scott is the prominent character that DC is introducing into New 52 continuity as gay. The original Green Lantern! Neat? It all sort of feels like a cop out to me, plastering this announcement everywhere and then finding out its a dude 70% of pop culture doesn't know. Writer of Earth 2  James Robinson was discussing all of this with The Advocate  when he revealed the obvious (?), that Alan Scott won't be the only gay character.
DC Comics rolled out  the official announcement  this morning that, yes, Golden Age Green Lantern Alan Scott  is  the "major iconic" character that will be reintroduced as gay, but  Earth 2  writer James Robinson has already made clear that he won't be alone.

"There is another character down the line, but that character won't be appearing for some time, so it's probably a bit too early to talk about that," he told the gay and lesbian magazine  The Advocate, "but this book will definitely have a diverse cast. Alan Scott won't be the only gay character in  Earth 2,  I promise you that."

"I feel if you're going to have a team, you need to have realistic diversity," Robinson said, explaining his rationale for including a gay member on the Justice Society. "After all, I have gay friends and straight friends and we're all mixed together. It stands to reason, just based on the population of the world, at least one member of the team is going to be gay."

it's a sign, perhaps, of how far DC has come since 2006, when the publisher was seemingly caught off-guard by flurry of media attention that accompanied the introduction of lesbian socialite Kate Kane as the new Batwoman. This time, however, interest in  an off-hand response by Co-Publisher Dan DiDio to a fan's question last weekend at Kapow! Comic Convention  has been transformed into a springboard for a full-on public relations blitz. This morning Robinson can be found everywhere from  The New York Times  and the  New York Post  to  Entertainment Weekly  and  Rolling Stone  discussing the reinvention of the 72-year-old original Green Lantern.

"Obviously, I'm a huge fan of DC. But one of the things I felt was that if you're going to reinvent a universe, you should really go for it," Robinson told  Comic Book Resources. "You should go for it the way Grant Morrison has done with Superman or how Geoff Johns has come up with a new origin for the Justice League. With that in mind, the only thing I was sad about in terms of a younger Justice League was that there wasn't going to be Jade and Obsidian — Obsidian of course being Alan Scott's gay son. And just as one idea can foster the next, from there I went, 'Why don't I just make Alan Scott gay' And to Dan DiDio's credit, there wasn't a moments hesitation on that. He just said, 'That's a great idea,' and we went with it."
Is anyone reading Earth 2? Or likes Alan Scott? Would love to hear your take.