Buy These F**king Comics! – May 16, 2012: Mainstream Big Two Fanboys Abandon Hope, Aiight?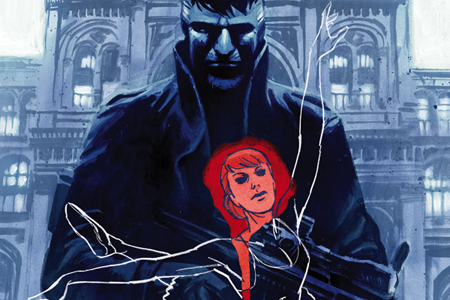 It's approaching midnight and I sipping liberally from a recently-cracked open two-liter of Pepsi Max. This can only mean a few things. Diablo 3  has launched, my semester is over, and I may very well be dead by the time you read this. Slouched over all fucking South Korean internet cafe Starcraft  stylee. Should I continue sucking wind into the meatier part of this Wednesday, I shall be snagging some comic books. These are the ones I'm digging on. Your mission, should you choose to accept it, is to tolerate my stupidity and then augment my list with the titles you're going to procure for an exorbitant sum. Especially if I don't list your little binky title. I'm willing to riff on anything should you suggest it.
Don't know what's dropping? Hit up ComicList.
—-
Dancer #1
I had been eyeballing  Dancer  since before  our interview with Image Comics publisher Eric Stephenson. Writer Nathan Edmonson had been entertaining me with his totally  24: Modern Black Ops  (I'm being reductive and possibly insulting) jam  The Activity. But when Stephenson was all "this dude is an up and coming Titan", well fuck. I'm there. In addition, Nic Klein's  artwork seems pretty fucking gorgeous. If I was capable of reproducing the sort of discourse those literate in the way of comic art do, I'd say something like "his line work is excellent!" or "the paneling sequencing truly is…" but I can't. I'm a dunce. You know that already. It looks really neat! The blood stains are kind of cool! I will buy this!
—-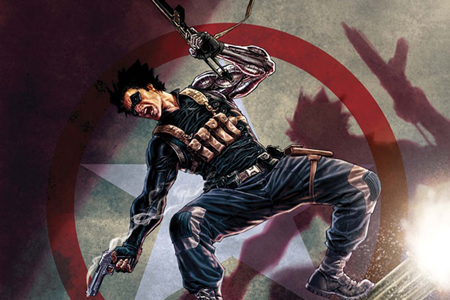 Winter Soldier #5
Winter Soldier  is pretty much everything I ever wanted out of Eddie Brubaker and Butch Guice. A sexy Cold War Is Still Going On spy thriller featuring latex hotties and technological wizardry at every bend. More than that, Guice is out of his fucking skull-flap when it comes to this comic. You flip a page and you're going to run into a layout that blows your butt hole through your tits. How does that even work? Fuck you. The Pepsi Max tells me it makes perfect sense. It would never lie to me. This title is oozing fun. I mean Sweet Christ in the first four issues we've gotten ourselves a Giant Fucking Ape for Bucky to punch, Victor Von Doom, and enough Black Widow ass shots to carry your spank bank over until Avengers 2  drops.
More Big 2:  There's also that Avengers vs. X-Men  explosion-scenario dropping its fourth issue this week. It's the first Marvel event I've skipped in years, and it feels good. The sludge is dripping out of my  aorta  and I'm breathing a bit better. You're still down with it? More power to you. Couple that with Neal Adams' The First X-Men  and you have two Marvel status quo ticklers that I simply cannot give a shit about.  Think I don't dig Events at all? Incorrect: I'm stoked for the Lemire/Snyder Heavy Feral Thunder upcoming epic  Rotworld.
—-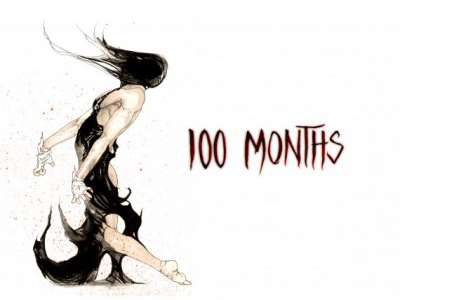 100 Months (Hardcover)
These days I'm willing to recklessly roll the dice based on recommendations from people whose taste seems far superior to mine. Like Douglas Wolk. I hadn't heard of 100 Months  or its creator  John Hicklenton until today. That hasn't stopped me from firing up the AMAZON-INSTABUY-MACHINE and acquiring my own genuine copy of this graphic novel. The premise is excellent; the circumstances surrounding the title unbelievable. According to Wolk, after Hicklenton was diagnosed with multiple sclerosis "he wrote and drew this environmentalist graphic novel about a war between Satan's daughter and an evil capitalist god, which is apparently all full-page images." Goddamn! That idea alone that has me sold. Now it gets a bit darker, more bonkers. The day after  Hicklenton finished the title he punched out at an assisted suicide clinic in Switzerland.
Tremendous.
—-
Saga #3 [Pick of the Week-Month-Whatever]
It isn't enough that Saga  brings me to my knees every month. What should also be appreciated is that this jewel, this gem, this diamond-encrusted butt plug designed to rub maliciously against my geek prostate until I coil over in delight is that it is actually coming out every month. My sympathy for those not buying this title is only met by my disdain for them. As someone who can't afford everything dope on the docket, I understand. As someone who is pretty sure this is the best title going, I am confused. This month the title's main characters Marko and Alana are encountering the Horrors, who look like a pack of bloodied ethereal kid-monsters. Dollars to donuts? They're going to help them.
More Image Swag:  I feel like a complete ass-clown Image Donkey, but there's a litany of titles dropping from My Favorite Publisher (yeah I said it) this week:  Hell Yeah #3,  Danger Club #2, and Manhattan Projects #3. Not to mention our own Johnny Hotsauce informing me I need to get into the Glory  game. So much Image. I'm sorry, I'm sorry.
—-
That's what I'm sweating this week. What are you checking out?