The Xbox/Kinect $99 Bundle Is Really Real, Requires Xbox Live Contract.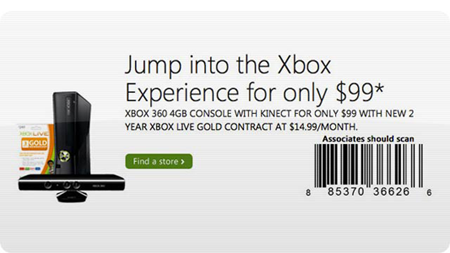 The Xbox/Kinect bundle for $99 that the entire gaming internet speculates up on last week turns out to be real. The catch, the answer to how it can be peddled for such limited ducets, has also been revealed.
We heard about a crazy  $99 Xbox/Kinect bundle  last week, but we weren't sure what the  catch  would be. Now we do: You need to sign up for a  two-year $15 per month Xbox Live Gold contract. Not bad!

The total cost of the contract comes to about $360, but that's a wash if you're going to be getting a Gold subscription anyway. Microsoft's been pushing the low-cost 4GB Xbox model for a while now, and along with the Kinect, it makes for a formidable competitor for the Apple TV as a $100 media center.
I think the big hurdle here aside from signing your life away with yet another  contract is the fact that the console in question is only 4GB. For anyone looking to seriously engage in some gaming lovin', this is prohibitive.