James Cameron Teasing 'AVATAR 4', Done Developing Other Projects.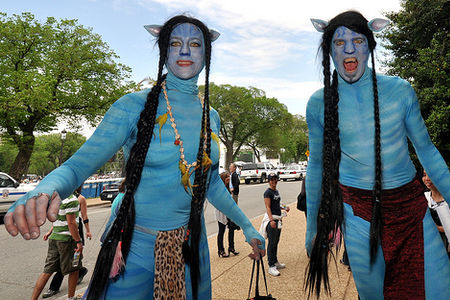 I wish that James Cameron would keep doing awesome things like going to the deepest point in the ocean and planning to mine the shit out of space rocks. This would keep me from having to contemplate the salt-and-peppered bastard as a movie maker, which quickly gets my Hulk going.
James Cameron has sailed the "Titanic," gone into outer space with "Aliens" and traveled through time with "Terminator." But it looks like the director has committed a large portion of his upcoming cinematic career to the world of "Avatar," to the point where he says he's no longer going to even be considering new feature film projects.
The director recently chatted with The New York Times and revealed that while he'll continue his scientific research and documentary work, on the movie front, "Avatar" has become the central focus through which he'll be telling the stories he wants to share and using the technology he continues to develop. And that's not all. Back in the fall of 2010, it was announced that "Avatar 2" and "Avatar 3" would be his next films, but it looks like he's tossing around the idea of adding one more sequel on there which will certainly make the suits over at 20th Century Fox very, very happy.

"I've divided my time over the last 16 years over deep ocean exploration and filmmaking. I've made two movies in 16 years, and I've done eight expeditions. Last year I basically completely disbanded my production company's development arm. So I'm not interested in developing anything. I'm in the 'Avatar' business. Period. That's it. I'm making 'Avatar 2,' 'Avatar 3,' maybe 'Avatar 4,' and I'm not going to produce other people's movies for them. I'm not interested in taking scripts," Cameron said about his future plans. "And that all sounds I suppose a little bit restricted, but the point is I think within the 'Avatar' landscape I can say everything I need to say that I think needs to be said, in terms of the state of the world and what I think we need to be doing about it. And doing it in an entertaining way. And anything I can't say in that area, I want to say through documentaries, which I'm continuing. I've done five documentaries in the last 10 years, and I'll hopefully do a lot more. In fact, I'm doing one right now, which is on this, the Deep Sea Challenge project that we just completed the first expedition. So that'll be a film that'll get made this year and come out first quarter of next year."
He's in the Avatar  business, and what a fucking business it is for him. Churning out billions of mediocre dollars to the tune of a thousand people wishing they were Blue Elf People.