'TOP GUN 2' To Come Out Before 'MISSION: IMPOSSIBLE 5'…Oh Yeah Totally Makes Sense.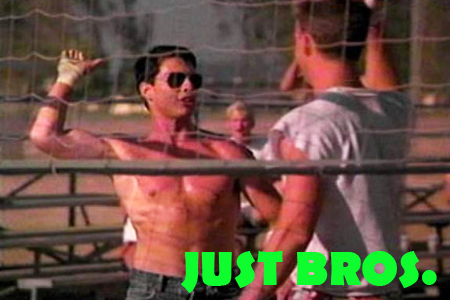 How the hot shit across a cold piece of bread does this make any sense. Some Paramount executive-cock fart has informed the world that before M:I5  will come Top Gun 2. Why follow up on the best installment in a franchise when you can recook a homoerotic Cold War propaganda flick?
Speaking to  THR, Paramount film group president Adam Goodman was asked about the continuation of  Mission: Impossible, and he said,

We'll likely make a Top Gun sequel with Tom Cruise first. Jerry Bruckheimer would produce, with Tony Scott returning to direct. All parties are moving ahead. We've hired Peter Craig to write the script.

We've known about  Craig's involvement, but that confirmation of  Tony Scott  as director is new. We known that Scott would at least produce the sequel, and he has talked about directing, but this is a more firm confirmation of his involvement as director.
Do not understand! Though who the hell can complain. Just some dudes, spiking volley balls, hugging, defeating Communism…er, I assume terrorists. #Ominousmusic