DC COMICS Announces 'DIGITAL FIRST' BATMAN By Lemire, and Lindelof. This Is Hot.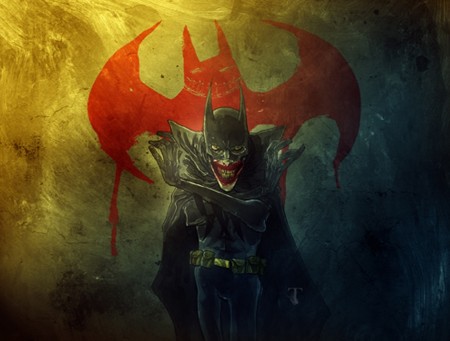 The giant digital push is coming, so grab the grease and practice your groans or moans. Depending on your distributional ideology. DC has announced "Digital First" Batman as well as other "digital first" joints  and the line-up alone may be able to persuade you.
Brian Truitt nails the lede here, saying "DC Comics aims to make every day a new comics day."  Ame-Comi Girls, written by Justin Gray and Jimmy Palmiotti, will come out on Mondays, while  Batman—which will feature tales of the Dark Knight by Ben Templesmith, Steve Niles, B. Clay Moore, Nicola Scott, Joshua Hale Fialkov, Damon Lindelof and Jeff Lemire, among others—will come out on Thursdays. So the weekly line-up of digital-first series from DC looks like this:

Monday:  Ame-Comi Girls
Tuesday:  Batman: Arkham Unhinged
Wednesday: The  Beyond  comics
Thursday:  Batman
Friday:  Smallville: Season 11

"Our goal has always been from the very beginning to have something for everyone. The opportunities that digital opens up, it really allows us to go for as wide an audience as possible," Hank Kanalz, DC's senior vice president for digital, told USA Today. "The Lindelof thing will really appeal to tons of fans who don't read regular comics, obviously. Hopefully when they come, they'll see what an amazing medium this is and stay."

Update: Via press release, DC has announced more details on the Ame-Comi Girls series. "AME-COMI GIRLS, launching in May, is based on the best-selling product line from DC Collectibles that brings the distinct Japanese influence of anime and manga to DC Comics' female heroines and their foes. In the new series, the heroines must unite to stop an invasion by the female Braniac, who is aided by a group of 'bad girl' super villains. Initially, there will be five individual character arcs with multiple chapters, leading up to united, Ame-Comi girl series. All stories are written by Jimmy Palmiotti and Justin Gray with Wonder Woman art by Amanda Conner and Tony Akins, Batgirl art by Sanford Greene, Duela Dent art by Ted Naifeh, Power Girl art by Mike Bowden and Supergirl art by Santi Casas."

They also announced the creative pairings for the  Batman  digital comics: "BATMAN digital, launching in June, will take place outside of DC Comics — The New 52 continuity and feature a series of stand-alone stories by various creators that chronicle different cases handled by The Dark Knight. Confirmed creative teams include Damon Lindelof and Jeff Lemire; Jonathan Larsen and JG Jones; Tom Taylor and Nicola Scott; Ales Kot and Ryan Sook; B. Clay Moore and Ben Templesmith; Steve Niles and Trevor Hairsine; Joe Harris and Jason Masters; TJ Fixman and Christopher Mitten; Jeff Parker and Gabriel Hardman; Joshua Hale Fialkov and Phil Hester; David Tischman and Chris Sprouse; and many more!"
The digital divide ain't just in the classroom, it's ripping across the funny book industry. I'm really intrigued to see what happens in the next couple of years, as DC Comics and others begin to pump out worthwhile content that is literally  beyond the reach of certain fans.