Comics We're Buying This F**king Week: Massive Wood and Brubaker's College Fund.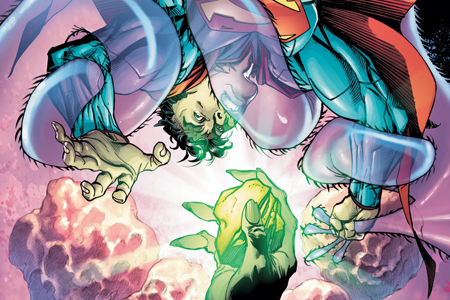 Welcome to the newly minted (and perhaps not staying named as such)  Comics We're Buying This F**king Week. Figured I'd cut the bullshit. Herein us guys and gals of the sequential funny book time can share the comic books we're digging on in a given week. It's a pretty exciting week, as I'm getting a new dose of Wood to engulf. Always a sucker for the Wood. (And infantile puns. It's been a long day, forgive me.)
Dig the releases for yourself at ComicList.
—-
Action Comics #6
Grant Morrison and Andy Kubert team-up to bring a Superman tale that I'm only moderately interested in buying. In fact, I don't really know why I'm mentioning it. Blind allegiance to Morrison? Sorta. Vague enjoyment of a Kubert-penciled issue? I suppose so. There's a bulge within my soul, slowly eclipsing into a vacuum where my excitement for something Grant Morrison is writing should be. Is anyone legitimately  digging the Kal-El blase reboot affair?
—-
The Ed Brubaker College Fund Project 2k12.
I don't know if Ed Brubaker is married or has sired some offspring, but if he did then I am there for them. With weeks like this, I feel as though I'm almost single-handedly attempting to put them through college. Yeah I know $5 or whatever from some blowhard like myself doesn't go very far. I know! I know it. I just have this dream scenario where he walks up to me and shakes my head, commenting on how my altruistic tendencies have really helped out his family and how he's going to write me into Captain America canon as Bucky's Blown-Up Left Arm. How will that work? I'm not sure. We'll leave it to my friend. Speaking of my amico, Winter Soldier #1  drops this week, and it's fucking gorgeous. Butch Guide is all that is glory. As well, the second issue of Fatale  is arriving. True confession time. Teary-eyed blathering at a Real World camera time. I wasn't really floored by the first issue. Feel guilty just typing that. I'll stick along though. It's Brubaker, it's Phillips. It's going to be enjoyable at the very least.
—-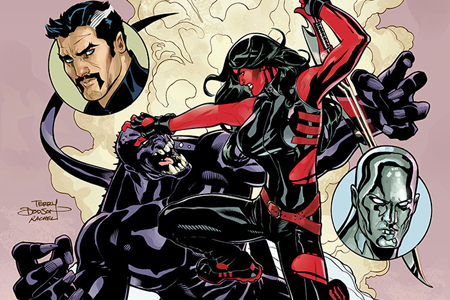 Defenders #3  
Matt Fraction. Terry Dodson. Weird ass metacommentary on the bottom of the pages. Existential angst vomiting forth out of all the characters. A relaxed tone and wit I haven't seen this side of Casanova from one of my favorite writers. Jesus Fuck let this title keep selling.I need it. It washes out the acidic vapors from all the Avengers titles burping up out of the miasma of mediocrity. It's almost too good to be true. Weekly I walk miles both to and from my shrine to the title. Bare foot, clad only in rumpled issues of Marvel Team-Up  covering my groin. Pleading with the Powers That Be both in the corporate and galactic manner to keep this title churning. The very fibers of my soul demand it sally forth, for at least another eight or so issues. Until its inevitably sucked into Forsworn: The Peter Parker X-E-X-Cution or whatever. Then I shall drop the parchment and labor no more.
—-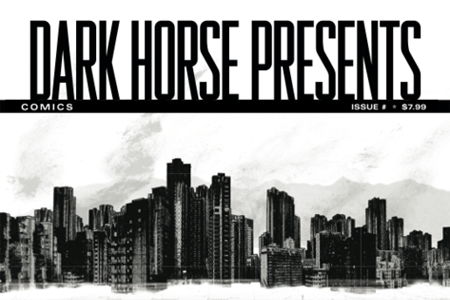 Dark Horse Presents #8 [And More]
The Wood starts here! Brian Wood's Next Big Thing, The Massive, gets an introductory story in the newest Dark Horse Presents. Fuck yeah! With DMZ ending, I need some Brian Wood-powered political thundersmashing, and Kristian Donaldson's artwork seems to compliment the endeavor nicely. There's also a new Beasts of Burden  storyline in there, which should help ease the $8 cover price. Oh, who am I kidding. I'd pay $15 for preview itself. Such is the life of a gaping fanboy for new Hero Material. I admit it. I admit it. Also dropping is Sweet Tooth #30. I'm behind on the issue, having been a bit dissuaded from the premise since **big spoiler I won't spoil** was revealed. Eh. What can you do. For those of you looking to muck about in marshes and shit, snag Swamp Thing #6. Some New 52 done right.
—-
That's it for me. What are you good folks of the Netter-Webs snagging this week in Comicville? Comicvilleland. Comevillelandplace. Thing.