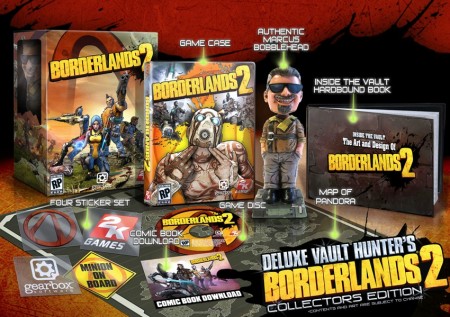 My goodness. My love for Borderlands  is unmatched by many a franchise. It is a love so strong that it will have me doing ludicrous things, like opting into ridiculous special editions I don't need, and really can't afford.
Good day, vault hunters. Today, 2K Games announced two special editions of  Borderlands 2  for optional acquisition for the game's launch in  September.

The $100 "Deluxe Vault Hunter's Collector's Edition" includes the game, Marcus Kincaid bobblehead, art book, stickers, digital comic and some unspecified DLC. There's also the "Ultimate Loot Chest Limited Edition" (pictured), which includes all items previously mentioned, along with actual red loot chest box and other goodies.

Pre-ordering the game in any edition (even the plebby "standard") at "participating retailers" will also net access to the Borderlands 2 Premiere Club, to download the Gearbox Gun Pack, Golden Key, Vault Hunter's Relic and the  Mechromancer  character class when the game's out.
Hell yes.