Microsoft confirms Xbox streaming sticks and Game Pass TV apps. The future is (sort of) now!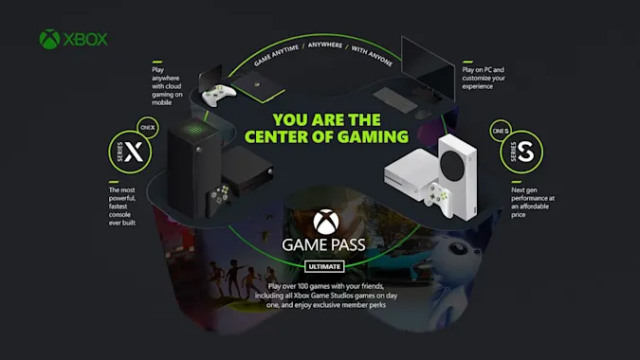 Today, Microsoft announced what they had previously teased. The motherfuckers are working on an Xbox streaming stick as well as Game Pass Smart TV apps. While the technology ain't all the way there yet, it's wild to see a gaming giant officially embracing the future. Just smooching it. Rubbing on it. Maybe not putting it all the way in yet, but the tip is getting teased. It is!
Just days before Microsoft's big ol' E3 livestream, executives from the company sat down to talk — er, read remarks prepared by the communications team — about the future of Xbox. In a pre-recorded media briefing, Xbox head Phil Spencer, Microsoft CEO Satya Nadella and others bragged about how well Game Pass and Azure are performing, and also dropped some news about the company's cloud gaming and subscription strategies.

First, Xbox is working with global TV manufacturers to get Game Pass on smart televisions. Considering a Game Pass Ultimate subscription unlocks cloud capabilities, this feature will allow folks to play Xbox titles with just a controller, no console required. Additionally, Microsoft is officially building a video game streaming stick, as Spencer teased late last year.
"We're also developing standalone streaming devices that you can plug into a TV or monitor, so if you have a strong internet connection, you can stream your Xbox experience," CVP of gaming experiences and platforms Liz Hamren said. There's no word on when to expect the smart TV app or streaming hardware to hit the market, but neither seems too far off.