Weekend Open Bar: Party Out In The Desert (Heat)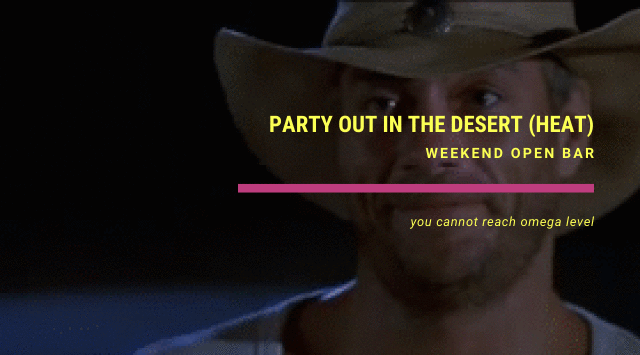 Classes are finally fucking over, my friends! Sure, I got some tutoring and some grading to do, but that shit is small potatoes. Stick a couple of them in my ass and send me into the desert! I don't care. Ain't no problem. I'll return to you later in the day with some glazed baked potatoes and an impish grin! But legit, it feels fucking good to have a few weeks off before the Summer Semester cranks up! Cranks out. Cranks…off?
Anyhoo — let's celebrate the motherfucking kickoff together here at the Open Bar! What are you existential felons, scum-lords, and baroque bastards up to this weekend? Anyone else pick up Mass Effect? Anyone else reading some Stephen King? Anyone else walking around the desert, ass stuffed with potatoes, sweating and smiling?
I want to know! Let's hang out.
This is Weekend Open Bar!