Space Swoon: Mars' Jezero Crater is a potential site for the Rover to investigate!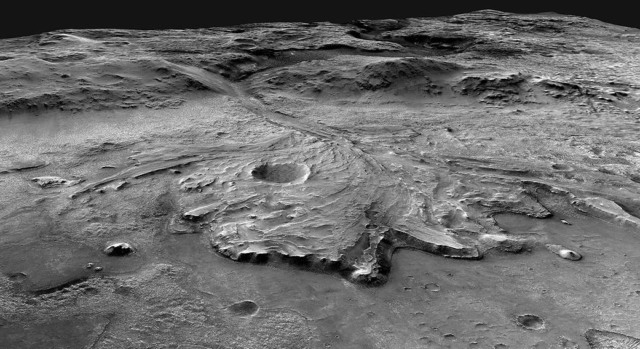 Hey, yo! Check out the fucking Jezero Crater, a potential site of investigation for the Mars Rover. You go, little bro. Investigate. Detect. You know, find signs of ancient life.
This image depicts a possible area through which the Perseverance Mars rover could traverse across Jezero Crater as it investigates several ancient environments that may have once been habitable. The route begins at the cliffs defining the base of a delta produced by a river as it flowed into a lake that once filled the crater. The path then traverses up and across the delta toward possible ancient shoreline deposits, and then climbs the 2,000-foot-high (610-meter-high) crater rim to explore the surrounding plains. About half of this traverse could be completed in Perseverance's prime mission (one Mars year, or two Earth years). For reference, the prominent crater near the center of the image is about 0.6 miles (1 kilometer) across.

Scientists believe the area was once flooded with water and was home to an ancient river delta. The process of landing site selection involved a combination of mission team members and scientists from around the world, who carefully examined more than 60 candidate locations on the Red Planet. After the exhaustive five-year study of potential sites, each with its own unique characteristics and appeal, Jezero rose to the top.

Jezero Crater tells a story of the on-again, off-again nature of the wet past of Mars.