Long Weekend Open Bar: Merry Christmas, Ya Filthy Animals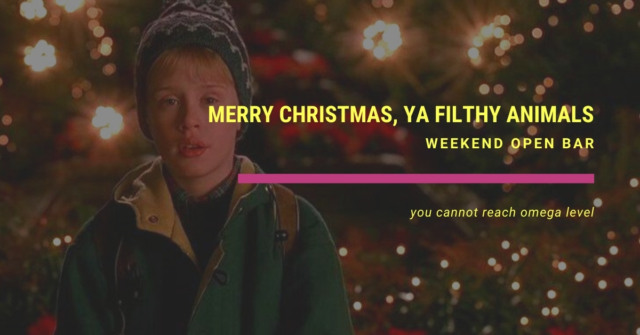 Merry Christmas, ya filthy animals!
To each and every one of you motherfuckers. Man, what a fucking year it's been. I mean, unconventional to say the least. No? Unconventional! To say the fucking least. In a year of unconventional existence, why would the holidays be any different? They wouldn't! Which is why this Christmas Eve has been a quiet, muted affair for me. Christmas will follow too in a similar manner, obviously.
But in a year of discord, displacement, and dismay, one thing that's kept my ass afloat is this here community! Mamma mia, have the blog and streams kept me going throughout the year! Without ya'll, I honestly don't know what the fuck I would have done. So, let's spend the holiday weekend together!
No matter where you are this holiday weekend, and no matter who you're with, I'm ready to hang! Tell me! What are you up to this holiday weekend? You watching anything good? You unwrapping anything good? Partaking in any dope deals? Steals? Meals? Anything and everything goes here at the Long Weekend Open Bar.
Merry Christmas, ya filthy animals!