Weekend Open Bar: The Return of (Blood)Sports!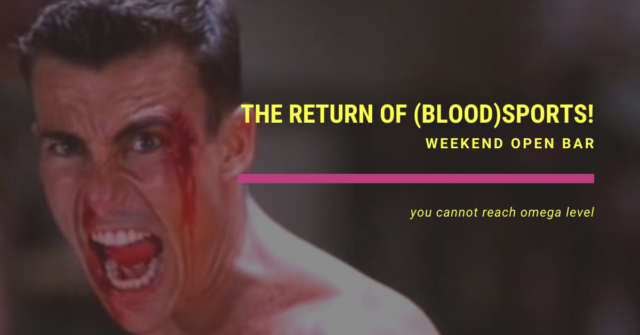 Oh golly gee, friends! I gotta confess, I'm hammer this out right after writing this week's comic books column! Which means my already bedraggled, fucking pathetic attention span is deep-fried! Really just absolutely sent to the fucking moon! But, if I don't turn on the lights, tap the keg, and unlock the door, who will? Fucking no one! And fuck, dude! I want to hang out with you pig-sniffers, which means I really have no choice.
Thus, I'm gonna keep this son of a bitch short, sweet, and poorly edited. Let's dance the Dance of Relaxation together this weekend, my friend! Tell me, you playing anything gripping? You eating anything gripping? You gripping anything exciting? Really just sort of tugging back and forth? I'm interested in all the details, the nitty-gritty. Let me be your confidant,. no one else will know. Save for, you know, anyone and everyone who comes across this column.
This is Weekend Open Bar!
Let's hang out!