So These Are Comic Books (7.29.2020) – Drink The Pulp, Embrace The Grit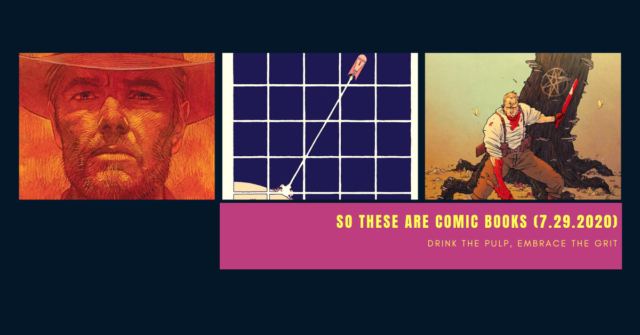 Dick-lords and glorious babes of any self-identified gender, welcome to another edition of So These Are Comic Books! When I kicked off this comics column again, I should have known it wouldn't be easy! Between time-constraints and a wild ignorance of the market, it's sort of hard to know what's going on. That said, my "time-constraints" right now are really just getting high and playing Ghost of Tsushima, or some shit. And if I'm being honest? The ignorance can burn off like a fog if I dedicate myself to actually reading about comic books. What. A. Fucking. Idea!
Seriously though, it's as intimidating as fuck getting back into the game. I really, truly only recognize names from like, five years ago. A fact you'll quickly pick-up if you read this column! But, maybe you got better things to do. Fingering your ass (a worthy activity), reading your own comic book purchases (a worthy activity), or compulsively reading COVID vaccine news (not a worthy activity, believe me).
That said, I fucking hope you're here, friends! As well, fuck it, finger your ass while reading this column. Why not? Life's short, your ass is a playground.
With that in mind, push pointer finger on prostate (or, if you don't got one of those, just root around!) and get ready for what I'm snagging this week! Then, why don't you mosey down into the comments section and let me know what other titles are worth snagging and/or your preferred anal play of choice.
—-
[Pulp]
Listen, I fucking told you! I'm currently leaning on my old heavies as I wade back into this world. Pulp is a motherfucking OGN by Eddie Brukaber, Sean Phillips, and the familiar squad. Am I going to blindly snag this based on the team alone? You betcha! It's either this way, or blindly pick-up various Marvel comics that mean nothing to me. Not, like, in a dismissive manner. More like, I have no idea what's going on in Iron Man 2020, and I'm deeply disinclined to find out. At this moment! Who knows! Maybe you blow the hair off my tits in the comments section by recommending it! Who knows.
Anyways, I have to imagine (famous last words, outside of "yeah this fits in there") that Brubaker still got it. In fact, I texted Rendar and was like, do you think Brubaker still has his fast ball? To which he replied, something like "absolutely, I guarantee it, if he doesn't, I'll pay you back for the OGN" and then began babbling about ass play himself. I may or may not be making up some of that, but he did indeed also think Brubaker probably still got it.
So here we go! Gonna throw down $16 on this pig and hope for the best!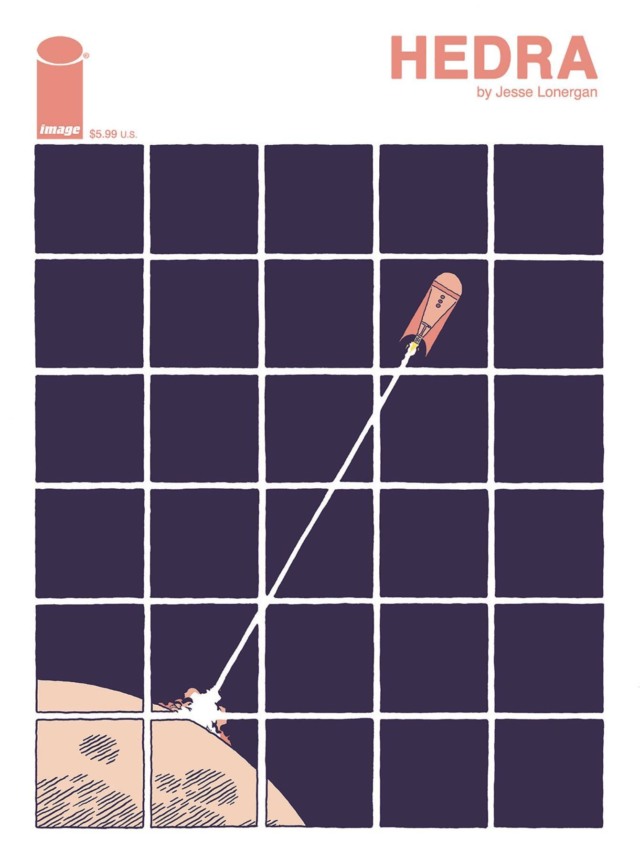 [Hedra (One-Shot)]
Did you know our own boy Johnny Hotsauce is contributing to a weekly comic book recommendations column over at Multiversity Comics? Bro has left us for greener pastures (or at least pastures with less flagrant jizz jokes and ass play), and he recommended this son of a bitch this week. The lad's recommendations are bona fide zingers (Jimmy Olsen was recommended by him, he gets me), and fuck me if this doesn't look like a title worth snagging.
Hey! You're like, Ian, tell me what the fuck one of these comics is about! And I'm happy to! viathe power of the eternal engine that is cut & paste from an official synopsis. This title is a "glorious exploration of the comics medium with echoes of 2001: A Space Odyssey, Flash Gordon, Chris Ware, and Moebius, a lone astronaut leaves a world ravaged by nuclear war in search of life" and if you don't think that's the tightest shit, I don't know what to tell you.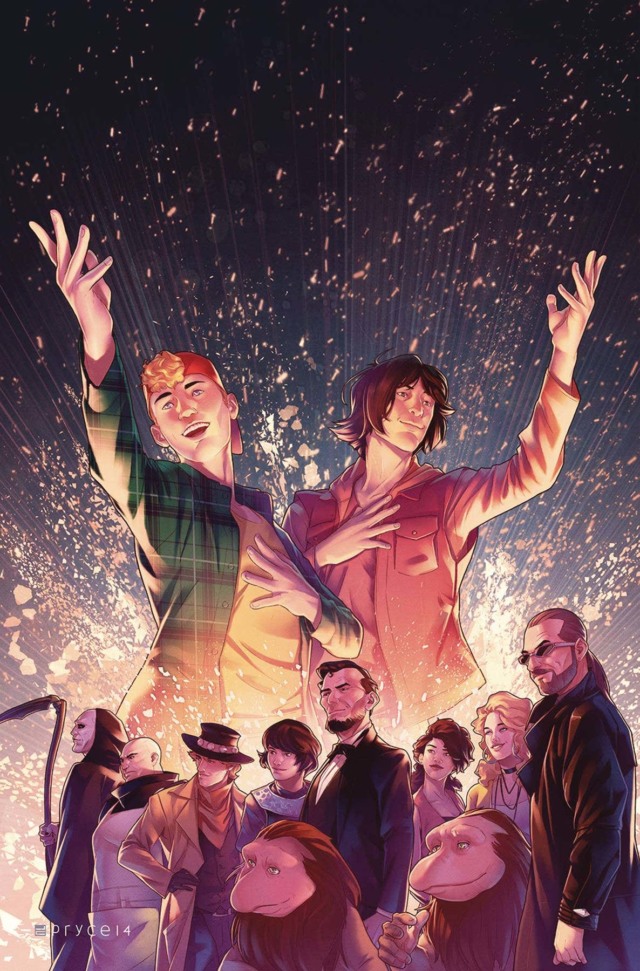 [Bill & Ted Omnibus TPB]
Listen, am I going to snag this Bill & Ted Omnibus? Perhaps obviously, the answer is an emphatic: nah. Which leads to the next question — why the fuck am I recommending it? Simple, my dudes. I'm heartened that this son of a bitch even exists. Like, the world is dark and full of horrors. Hope rots on the vine of reality. People are sneezing on one another, Lebron James is going to win a championship, and it's so fucking hot out. So, so fucking hot out. All of this means we need The World's Great Philosophers in our lives more than ever. You know?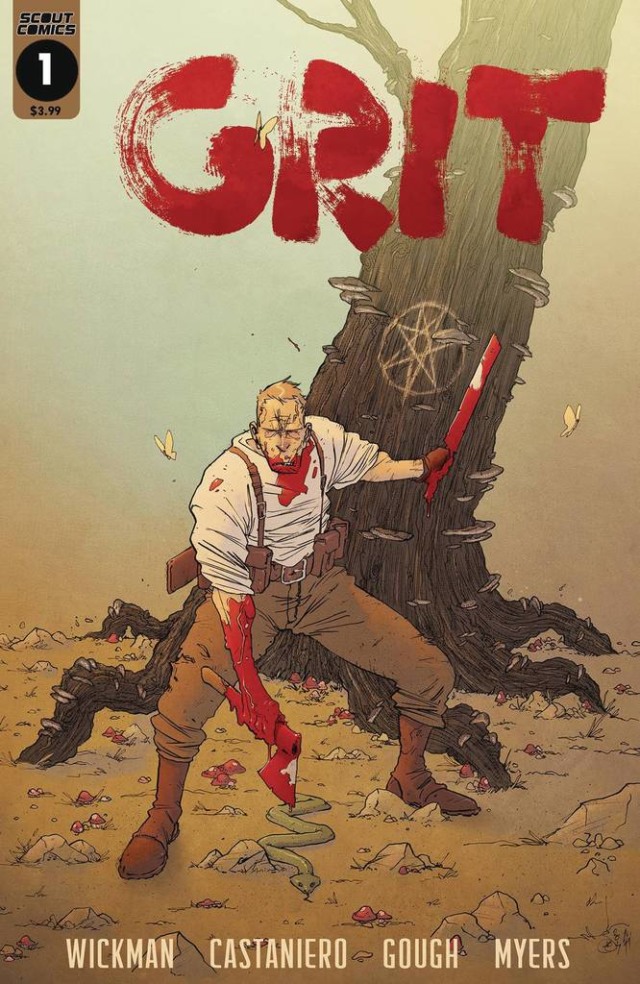 [Grit #1]
I'm fucking stupid, you know? But, I'm not that stupid. Like, stupid-stupid. Sharing that fucking Plandemic video or whatever. I'm not at that level. So when I realized I followed like 300 comic book creators on Twitter, I headed over to that social media nightmare and combed through their posts on Wednesday. One of the recommendations that kept coming up? Grit #1. Fucking fantastic! A new title whose steezeI can jump onto, without woryring about finding back-issues, or all of that happy horseshit.
Of course I say this now, and I'm going to end up not finding it on the rack when I go today or tomorrow. That's on me, dudes. That's on me, for dragging the fuck out of my feet.
But this son of a bitch is giving off serious Southern Bastards meets Doomsday Cult vibes, and I'm deeply fucking here for it. Especially since I'm behind on Bastards, and, uh. Who knows what the future holds for that title.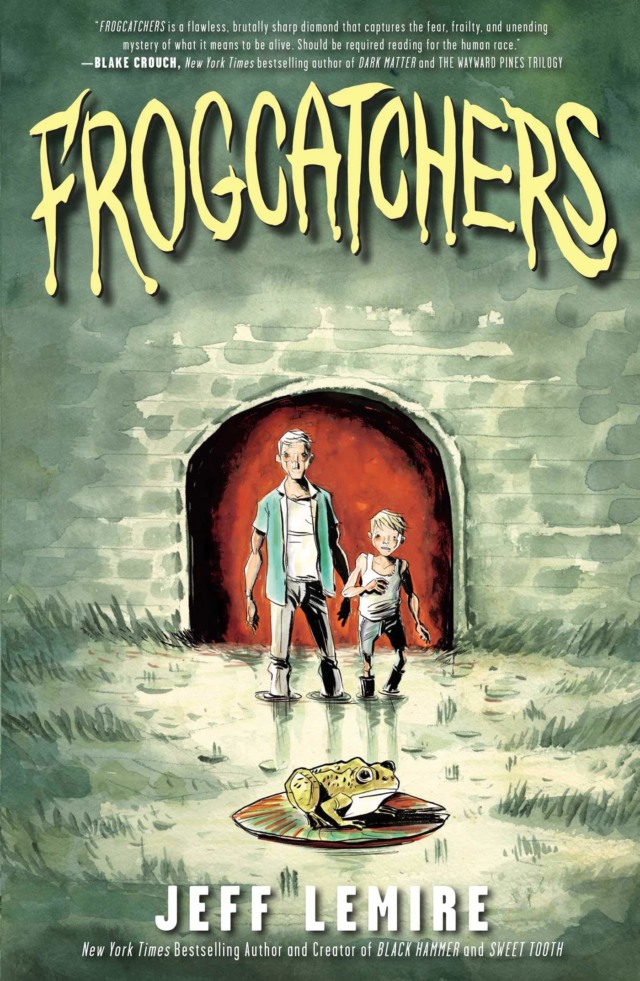 [Frogcatchers]
Am I recommending a second original graphic novel from a dude who I recognize, and revered years ago? You bet your sweet-frosted tits, kid! But, I mean. It's Jeff fucking Lemire! Sweet Tooth was fantastic, so was Underwater Welder, and Essex-County. I feel as though throwing money at this son of a bitch is worthwhile. Plus, dude is Canadian and shit! If I can't return to my motherland this summer because of a closed border — due to an unfathomable batch of evil and idiocy from our current government — I can honor Her through supporting Maple Leaf Talent. That works, right? That's a sensible throughline? Tell you what, if it isn't, just hush your mouth. Push harder on your prostate (a circle motion always works well for me), and chill out.
Let me have this.
Oh, what's it about? It seems equal parts King, equal parts Lovecraft, if you feel me. I mean, we got "haunted hotel on the edge of reality" mixed-up with "an endless bridge spanning an infinite ocean" — and if that doesn't sound like the Lovecraft meets King (whom was deeply influenced by Lovey, obviously), I don't know what does.
I'm there.
—-
That's it for me, motherfuckers! Really just flailing around in the dark, optimistic that some of these picks will pan out! If not, listen — you're welcome for me even trying.
But now it's your turn! Pluck that pointer finger out your ass — sniff it just once — and place them digits on your keyboard. Tell me what else I should be reading this week.