Weekend Open Bar: Dr. Fauci's Houseparty!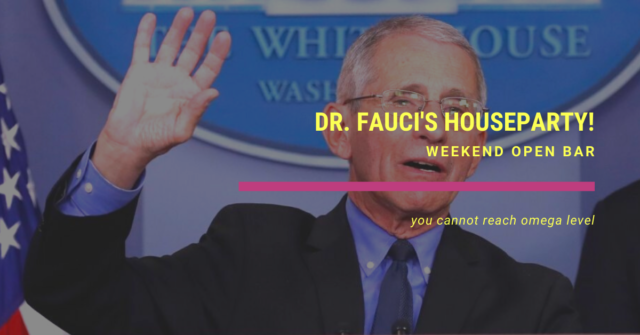 We're all living within Dr. Fauci's houseparty, baby! I got to say, fucking kudos to the absolute force of a man. Being able to persuade the Rotten Orange into issuing decrees (albiet tardily) that he clearly didn't want to is impressive. Will he win the push for a federal lockdown? Who knows! But, dude has clearly persuaded most states into chilling at home. If I'm even half as cogent as dude is at the age of 79, I'll consider if a flat-out, nipple-stiffening victory. As an aside, man, can you really contemplate what your nipples and genitals are going will like at that age? Fauci, though? I bet dude has huge balls, though. Cannonballs.
Anyways. While we're all sequestered inside, let's rock out to Dr. Fauci's houseparty together! Such is the function of any Weekend Open Bar!
As we push into the third weekend of this pandemical existence, tell me what you're up to! What's keeping you sane? What's gnawing at the rotten synapses in your gourd? Playing anything? Reading anything? Staring vacantly at yellow wallpaper, rocking back and forth?
I want to know!